Skip To:
#2. New Zealand vs Namibia (71-3)
#6. South Africa vs Romania (76-0)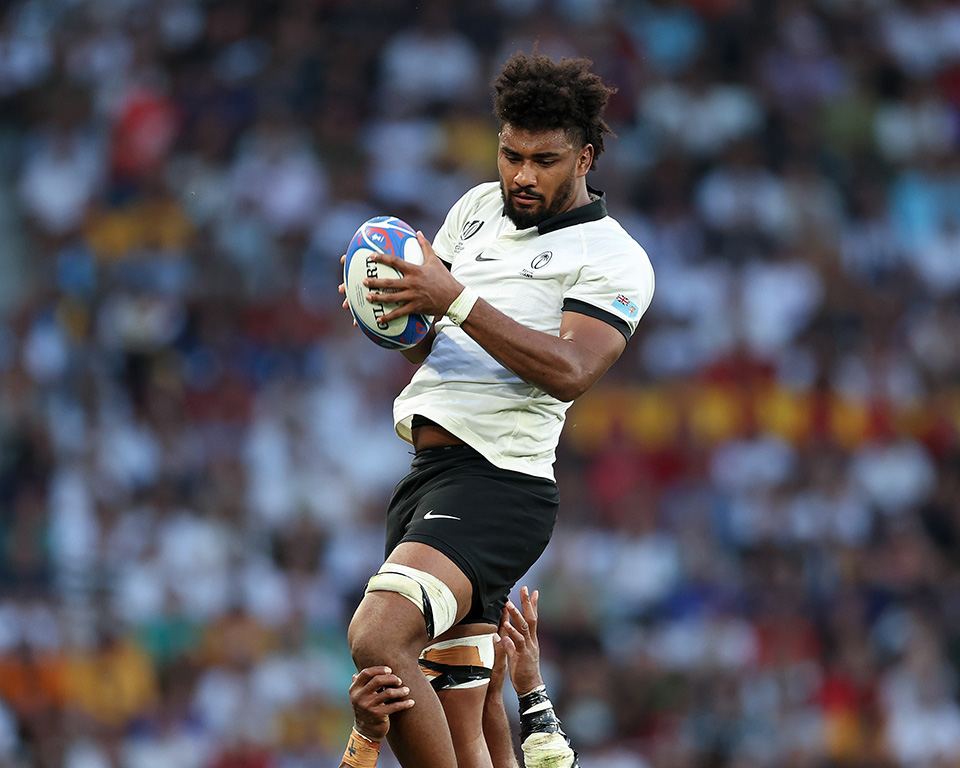 Thursday, 14 Septmeber
#1. France vs Uruguay (27-12)
In a Rugby World Cup matchup that had its share of surprises, France, fresh off their stunning win against New Zealand, faced off against Uruguay. The game concluded with a score of 27-12, but it was far from a straightforward contest…
Uruguay, the underdogs in this scenario, displayed their mettle with two remarkable tries, putting the French team to the test in their second RWC match.
The match kicked off with a twist when Nicolas Freitas scored an early try for Uruguay, catching everyone by surprise and igniting the home crowd's excitement.
Despite their considerable efforts, led by standout players like Antoine Hastoy and Melvyn Jaminet, France found themselves somewhat fortunate to maintain a 13-5 lead at halftime. This was due to a second try by Uruguay's Felipe Etcheverry being disallowed due to obstruction.
Uruguay, however, continued to defy expectations, showcasing unwavering confidence as they closed the gap to just one point with a sensational try by Baltazar Amaya, which was promptly converted by Etcheverry just 13 minutes into the second half.
As the game progressed, doubts arose about whether France might have underestimated their opponents. Discipline issues plagued the French throughout the match. However, they responded promptly with a crucial try from Peato Mauvaka to extend their lead.
Yet, as the match continued, France struggled to assert their dominance, managing to secure only one additional try through Louis Bielle-Biarrey.
Consequently, they missed out on a bonus point for scoring four tries, leaving them eager to deliver improved performances in their upcoming Pool A encounters against Namibia and Italy.
Friday, 15 September
#2. New Zealand vs Namibia (71-3)
Namibia faced a tough defeat against the formidable All Blacks last Friday, and even as the weather turned unfavorable, the New Zealand side didn't ease up, securing a commanding 68-point lead at full time.
This wasn't the first time these two teams clashed on the Rugby World Cup stage, as they met for the third time, with previous encounters in 2015 and 2019. However, in their latest match in Toulouse, New Zealand wasted no time making their mark on the scoreboard.
The onslaught began early when Cam Roigard scored the first try within just two minutes, courtesy of a well-executed play that started with Beauden Barrett's precise kick-pass to Leicester Fainga'anuku.
Roigard continued to shine, securing the second try, with his forwards dominating in the scrum. His performance hinted at his potential for even bigger games in the future.
Namibia managed to resist with a successful penalty by Tiaan Swanepoel but suffered a significant setback when their powerful center, Le Roux Malan, sustained a serious lower limb injury in the first quarter.
While unfortunate, the crowd at Stade de Toulouse showed solidarity as Malan was carried off the field, fostering a sense of camaraderie among Namibia and All Blacks fans alike.
The game resumed its pace, with Damian McKenzie scoring New Zealand's third try from close range, followed by Fainga'anuku securing the fourth. Anton Lienert-Brown's solo effort made it five, and a seamless play by Roigard set up McKenzie for a halftime lead of 38-3 for Ian Foster's team.
Namibia's Cliven Loubser made a promising run from full-back, but the second half followed a similar script. Ethan de Groot, Dalton Papali'i, David Havili, Caleb Clarke, and Rieko Ioane all contributed to the scoreboard, and New Zealand's defense remained resolute, preventing Namibia from scoring.
However, a frustrating setback occurred for the All Blacks in the "72 as Ethan de Groot received a late red card for a dangerous collision with Namabia's Booysen, upgrading his previous yellow card to red before full time, following a review by the TMO.
Saturday, 16 September
#3. Samoa vs Chile (43-10)
After an eight-day wait, Samoa's campaign finally gained momentum with a bonus-point victory over a resilient Chilean side, although it wasn't exactly a straightforward journey…
In a departure from their usual style of play, Samoa turned to a trio of second-half maul tries to put to rest any concerns of a potential upset.
Flanker Fritz Lee led the way, crossing the try line first, and replacement hooker Sama Malolo swiftly followed with two more tries in a 40-minute period marked by questionable officiating.
One particularly memorable moment saw a tense standoff between the three on-field officials over the appropriate sanction for Ereatara Enari.
As the Samoan scrum-half cleared out Diego Escobar, he was blindsided by replacement loosehead Jordan Lay, causing Enari to fall on the lower limbs of the Chilean hooker- itself an offense.
Assistant referee Angus Gardner was the lone official to spot that Lay's actions directly contributed to Enari's fall and advised Paul Williams to continue without the call for a penalty or foul play.
However, James Doleman, the other officiator, believed Enari's clear-out warranted a yellow card – a view shared by television match official Ben Whitehouse.
Consequently, Williams overturned Gardner's valid assessment and sin-binned Enari, which some felt to be a glaring error.
Fortunately, this controvery had no bearing on the outcome of the match. In fact, it featured three more yellow cards, with the first issued barely five minutes into the game, when Ulupano Seuteni was somewhat harshly penalised for a late tackle in the lead up to Chile's opening try.
Despite their valiant effort in their previous defeat against Japan just six days earlier, Chile's fighting spirit remained evident. A beautifully executed dummy-scissors move by Rodrigo Fernandez took Chile deep into the Samoan 22, and Marcelo Torrealba and Matias Dittus combined efforts to score.
Santiago Videla soon followed suit to add the extra points with a touchline conversion.
Four penalties from Christian Leali'ifano's boot, the top points-scorer for Australia in the last World Cup before switching eligibility, meant that Samoa held a narrow lead heading into half-time, despite Chile's resiliance.
However, that lead quickly grew to nine when Seuteni, a star at La Rochelle, set up Duncan Paia'aua to score after collecting Tumua Manu's grubber kick.
Just moments later (2 minutes to be precise) Samoa hit their stride, with Jonathan Taumateine displaying exceptional athleticism and skill to catch Theo McFarland's offload one-handed and touchdown in the corner.
Then came the maul tries and a flurry of yellow cards: Lee and Malolo scored, while Enari, Alfonso Escobar, and Esteban Inostroza all spent ten minutes in the sin bin, with the latter two penalized for head contact and team indiscipline, respectively.
Despite the drama, the day belonged to Samoa, and they now head into a potentially decisive clash against Argentina next Thursday for a spot in the quarter-finals.
#4. Wales vs Portugal (28-8)
Portugal, affectionately known as 'Os Lobos' or 'The Wolves' among their fans, took to the field last Saturday in Nice, delivering an exhilarating match that put Wales to the test.
Despite Wales boasting a formidable scrum formation, their performance paled in comparison to the spirited underdog display by Portugal, winning the admiration of their supporters.
In a pivotal moment, Wales secured a bonus-point victory in the 82nd minute, capitalizing on Portugal's reduced numbers after a red card was issued. Vincent Pinto's inadvertent kick to Josh Adams's head during a high ball catch led to his ejection. Nevertheless, even with numerical disadvantage, the match showcased the potential for underdogs to leave their opponents stunned.
Emerging nations often leave a lasting impression at these tournaments with their unique style of play, and Portugal, under the guidance of coach Patrice Lagisquet, was of no exception. Their dramatic qualification for this World Cup marked their first appearance since 2007. Portugal's bold and ambitious approach drew comparisons to a "mini Fiji," as remarked by Dan Biggar.
Despite some missed opportunities, Portugal matched Wales in ambition and demonstrated their adeptness in handling and attacking patterns. Their solitary try, scored by Nicolas Martins, was the result of a well-executed line-out maneuver. If Portugal had capitalized on all their kicking opportunities, the game could have been much closer.
Injuries prompted adjustments for both teams, with Wales introducing Jac Morgan in place of the injured Tommy Reffell. The match began with a festive atmosphere, but Portugal's resilient defense and confident ball-handling shone through. Louis Rees-Zammit's try with a signature Ronaldo celebration, along with some heroic try-saving tackles, added to the excitement.
Wales grappled with penalties and discipline issues before Dewi Lake's try just before halftime. Portugal's commendable defensive resilience and discipline couldn't translate into more points on the scoreboard. Taulupe Faletau's try ultimately sealed the victory for Wales.
Portugal's innovative play and a brilliantly executed lineout move culminated in their second try, showcasing their skill and creativity. Despite their best efforts, Portugal couldn't narrow the gap, and Wales secured a crucial win as they set their sights on upcoming matches against Australia and Georgia.
In summary, this match underscored Portugal's tenacity and illuminated the unpredictable nature of rugby, where underdogs can shine brightly on the global stage.
#5. Ireland vs Tonga (59-16)
Building on their spectacular start at the Rugby World Cup, Ireland continued to dazzle, securing a crucial bonus point against a determined Tonga. The icing on the cake was their captain, Johnny Sexton, etching his name in history as Ireland's all-time highest points scorer, eclipsing Ronan O'Gara with a remarkable 1,090 points and counting.
Although they initially had a slow start, Ireland hit their stride towards the end of the first half, displaying a scintillating brand of rugby. Their play was marked by pinpoint passing and dynamic attacking maneuvers that relentlessly dismantled Tonga's resolute defense.
Tonga, boasting undeniable talent, found themselves grappling with penalties and untimely errors.
Ireland, on the other hand, put on an offensive masterclass, slotting eight tries past their opponents. Among these, Mack Hansen's mesmerizing run stole the spotlight, leaving an indelible mark on this year's tournament.
Yet, amid the dazzling performances, the day undoubtedly belonged to Johnny Sexton, who etched his name in the annals of rugby history. In his 115th Test, Sexton not only orchestrated the attack but also demonstrated remarkable leadership and selflessness that reverberated throughout the team.
One pivotal moment saw Sexton's impeccable timing, setting up Tadhg Beirne for a memorable try. It was during this spell that Ireland showcased their finest rugby, leaving spectators in awe of their prowess.
While Tonga managed to stay somewhat competitive, courtesy of William Havili's penalty kicks, their hopes were dampened by a late hit that handed Ireland a valuable penalty. Ireland capitalized on this opportunity with a perfectly executed rolling maul try, courtesy of Caelan Doris.
One standout try that left fans awestruck was courtesy of Mack Hansen, whose extraordinary speed and boundless agility saw him effortlessly bypass multiple defenders. This epitomized Ireland's unwavering efficiency and flawless execution, which permeated every aspect of the game.
Unsurprisingly, it was the indomitable Johnny Sexton who scored the crucial bonus-point try, etching his name as Ireland's all-time leading point scorer. The crowd erupted in sheer ecstasy as they witnessed Sexton's exceptional playmaking prowess on full display.
As halftime approached, Ireland held a commanding 31-13 lead, comfortably fending off Tonga's attempts to regain momentum. Sensibly, Sexton was substituted at halftime to preserve his star quality for the battles yet to come in the tournament.
Though the wave of replacements momentarily disrupted Ireland's rhythm, their dominance remained undiminished. James Lowe and Bundee Aki contributed further tries, while Rob Herring put the finishing touches on the game with yet another try.
The only hiccup came with Finlay Bealham's departure due to a head injury assessment (HIA), extending Tadhg Furlong's time on the field. In the grand scheme, Ireland's resounding victories against Romania and Tonga, amassing a combined score of 141-24, bode exceptionally well for their prospects in the tournament's future stages.
#6. South Africa vs Romania (76-0)
The Springboks were in top form last Sunday as they dominated Romania, achieving an impressive 76-0 lead in their second Pool B match of the tournament.
South Africa wasted no time securing a bonus point with four tries within the opening 12 minutes of the game. Reinach scored twice, with Mapimpi and Damian Willemse notching tries shortly after.
Reinach continued his scoring spree by completing his hat-trick from a scrum, further extending their lead to 33-0 by halftime.
The start of the second half saw Romania eager to get on the scoreboard, but their attempts to breach the Springboks' 22 were in vain. South Africa's Deon Fourie added insult to injury by scoring another try in the 43rd minute.
Romania's discipline waned as they sought to halt the onslaught, resulting in a penalty try awarded to South Africa after 54 minutes.
Grant Williams piled on the misery for Romania by scoring two tries, and Mapimpi completed his hat-trick with two more.
With 13 minutes left on the clock, South Africa held a commanding 71-0 lead. Willie le Roux sealed the deal with a final try, securing a resounding victory for South Africa, following their earlier win against Scotland in the opening match.
Fly-half Handrè Pollard, initially left out of the squad due to a calf injury, has been added to the Springboks' roster in preparation for their upcoming match against Ireland in Pool B.
Pollard made a successful return by playing as a replacement in Leicester's Premiership victory over Sale and joins the team to fill the void left by the injured Malcolm Marx, who will miss the remainder of the tournament due to a knee injury.
#7. Australia vs Fiji (15-22)
Is this the most notable upset of the 2023 Rugby World Cup? This game has undeniably left a lasting impression in the tournament's history, all thanks to an astonishing victory by the underdogs, Fiji, marking Australia's first defeat to them in 69 years.
With Simon Raiwlui at the helm, Fiji has shown impressive growth in their style of play, while Australia seems to have encountered a noticeable decline compared to their usual performance standards. However, it's worth noting that the game felt surprisingly ordinary, with Fiji's flawless playmaking effectively neutralizing Australia's attacks.
It was Fiji's star players Levani Botia and Josua Tuisova who lived up to their reputations, dominating the breakdown and holding their own against ambitious Australia.
In what can only be described as a "well-balanced game," Fiji blended their trademark flair with enhanced game management and set-piece execution, giving the Wallabies a run for their money.
Notably, it was Botia's exceptional performance that highlighted him as a world-class player. Additionally, Simione Kuruvoli's outstanding goal-kicking was a revelation, as he successfully converted all five of his kicks before being forced to leave the game due to cramps.
Australia, on the other hand, was at a loss, having only beaten Georgia this year, they must now defeat Wales in Lyon in order to avoid the ignominy of being the first Australian side to miss the knockout stages.
Where Australia came at fault was in Eddie Jones' decision to replace their young fly-half, Carter Gordontoy on 50 minutes after a costly mistake was telling.
Jones' strategy in assembling this Australian team was evident as he chose to exclude seasoned veterans like Michael Hooper and Quade Cooper, indicating a clear focus on nurturing the team for the future.
However, what gave Jones cause for concern was the team's inability to convert periods of pressure into points, along with Fiji's relentless dominance in the breakdown.
Moreover, the loss of key players like Taniela Tupou and Will Skelton, who will be unavailable for the crucial match against Wales, presents a significant setback for Australia.
The anticipated clash between Tuisova and Samu Kerevi in midfield lived up to expectations, with Wallabies' sloppy penalties giving Fiji an early lead.
Australia's first try had a controversial build-up, but ultimately, it had no bearing on the outcome. Kuruvoli's precision in goal-kicking extended Fiji's lead.
Australia's hopes diminished further when Gordon misjudged a Kuruvoli box-kick, resulting in a try for Tuisova. Although Frank Lomani took over as scrum-half and goalkicker, he missed a penalty.
Fiji displayed newfound pragmatism, mixing their trademark wide passes and powerful runs with controlled play. Their scrum and breakdown work remained solid, even without Botia on the field.
Australia did manage to find a glimmer of hope through Lalakai Foketi's turnover, which set up a maul in the corner. A successful conversion by Donaldson narrowed Fiji's lead to just seven points.
In the closing stages, Fiji surprisingly engaged in a tactical kicking battle, a departure from their usual style, but it was a contest they won.
The match concluded with a Fiji scrum penalty, securing their first victory over Australia since 1954. This result leaves Fiji eyeing the quarter-finals, while Australia grapples with the shock of defeat.
#8. England vs Japan (34-12)
England's recent victory against Japan, while securing a commendable 22-point lead, left much to be desired for their fans and raised questions about their status as World Cup contenders. The performance of the England squad was lackluster and lacked precision, with the game failing to captivate spectators.
One peculiar moment in the match involved Joe Marler's head assisting England captain Courtney Lawes in a try, adding an element of controversy to the game.
Compared to other strong teams like France, South Africa, Ireland, and Fiji, England's performance appeared uninspired and limited, leading to audible boos from the stands at Nice Stadium.
However, England managed to secure their second consecutive victory, moving closer to a spot in the quarter-finals. The return of Owen Farrell from suspension and Tom Curry from a two-game ban is expected to provide England with more options and momentum, particularly in the latter stages of the game.
Given the surprise loss of Australia to Fiji earlier, England would have welcomed the bonus-point win, especially considering their less-than-ideal warm-up campaign.
The second half saw England making progress, adding tries from Lawes, Freddie Steward, and Joe Marchant to Lewis Ludlam's first-half score.
However, for fans who had witnessed England's heroic performance against Argentina in the first round, the match might have been disappointing.
Where England did excel was in their ability to maintain a solid defensive line against a lively Japanese side, even in the face of Yutaka Nagare's brilliantly executed overhead kick.
However, there was an unfortunate incident involving England's scrum-half, Alex Mitchell, at the start of the second half, when he kicked the ball dead after a turnover, prompting boos from the stands.
With Owen Farrell's return on the horizon, England will have the option to field two playmakers at 10 and 12, potentially adding depth to their attacking strategy, which was lackluster in the Japan match.
In the game against Japan, England initially relied on a kick-pressure game and a mauling strategy to counter Japan's line speed and tire them out for a more open second half. While this approach had some success, it also led to errors that prevented England from building consistent pressure.
England frequently turned to their maul to gain ground and engage the Japanese defense. However, a single pass from Mitchell in the midfield was lost, squandering a promising opportunity after a well-set drive had driven Japan back 20 meters.
Japan played with tempo and determination, in contrast to England's approach, which led to Japan taking the lead with a penalty by Matsuda. Even England's first try of the World Cup came from a Japan line-out error, with Ollie Chessum stealing the loose ball and Lewis Ludlam scoring.
England struggled to maintain momentum, with Matsuda's penalty following May's late tackle further narrowing the gap. A penalty by Ford extended England's lead, but their frustration was evident when they opted for a peel drive instead of capitalizing on a prime attacking position.
After the restart, England displayed more intensity but lacked composure in their attacks in the wide channels. Japan added more points with Matsuda's penalty, but England eventually took control, with Courtney Lawes scoring in an unconventional manner as the ball hit Joe Marler's head.
With an eight-point lead, England managed to withstand Japan's adventurous attempts, and their attack finally clicked from a five-meter scrum, resulting in a Ford cross-kick finding Steward for a try.
Marcus Smith, coming in late, contributed to tries by May and Marchant.
While there is still work to be done, England appears to be making progress step by step.
Missed Week One of the RWC?
We've got you covered! Check out the First Round now.