Skip To:
#3. Argetnina vs Samoa (19-10)
#4. Georgia vs Portugal (18-18)
#6. South Africa vs Ireland (8-13)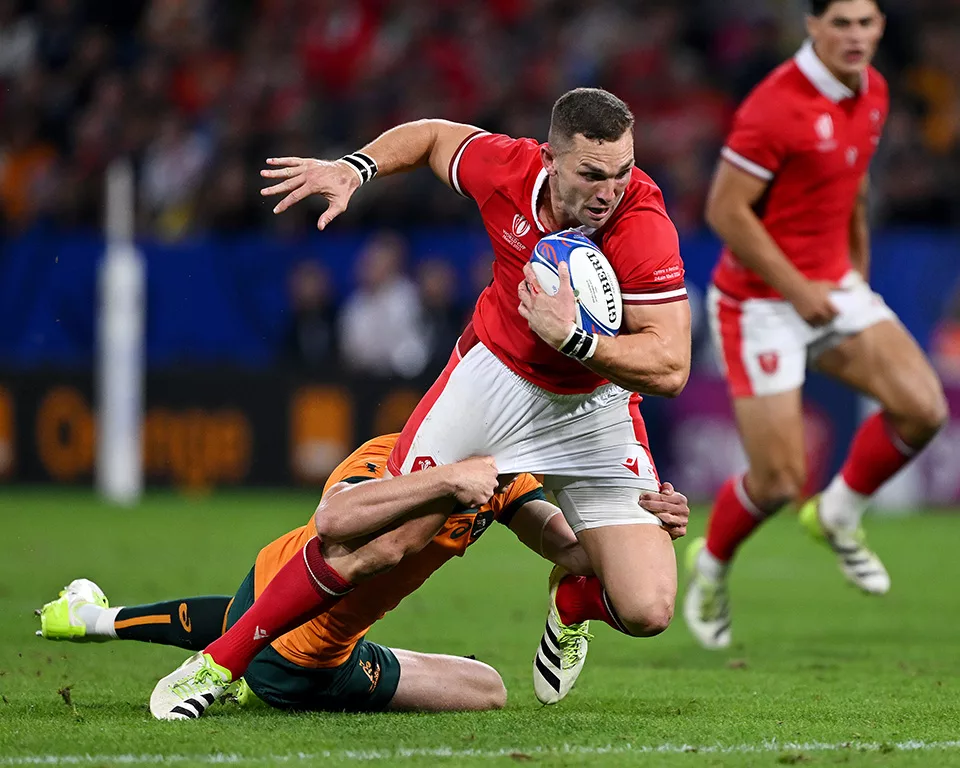 Wednesday, 20th Septemeber 2023
#1. Italy vs Uruguay (38-17)
Italy staged a remarkable second-half turnaround last Wednesday, clinching a thrilling triumph over Uruguay.
Closing the match with a commanding scoreline of 38-17 in favour of the Azzuri, the game ignited a whirlwind of emotions among the spectators as the two teams fiercely battled it out at the Stade de Nice.
Recovering from a challenging first half, the Azzuri secured 31 unanswered points in the second half to secure their second consecutive bonus-point victory, to take the lead in Rugby World Cup Pool A.
In the first half, Uruguay were seen to hold their own as they took the lead with double-digits, embarking on a mission to shake up the scores after their 27-12 loss to Les Bleus on Thursday 14th September.
Facing discipline challenges that led to two yellow cards for Danilo Fischetti and Niccolo Cannone in the opening half, Italy's prospects appeared bleak.
Nonetheless, Italy rallied in the second half to secure their position atop Pool A with 10 points. Yet, their journey is far from over as they must still contend with formidable opponents in France and New Zealand, both of which are currently considered favourites to progress further in the tournament.
As the second-ever meeting between the two teams, Uruguay surprised italy by leading 17-7 at halftime, capitalising Italy's numerical disadvantage.
However, it wasn't long until prop Danilo Fischetti and second row Niccolo Cannone returned to the field after serving their yellow card penalties, leading to Italy's resurgence with four converted tries.
Uruguay, who had previously challenged France in a close 27-12 defeat conceded an early converted try to Italy's Lorenzo Pani.
However, they drew level after being awarded a penalty try and capitalised on Cannone's yellow card, with a second try coming from Nicola Freitas. Felipe Etcheverry soon converted and added a drop goal to extend Uruguay's lead before halftime.
The second half soon followed with Uruguay's captain Andres Vilaseca being sin-binned early, enabling Italy to stage a remarkable comeback with four converted tries by Michele Lamaro, Monty Ioane, Cannone, and Ignacio Brex.
Italy established a commanding 35-17 lead, securing the victory before Paolo Garbisi sealed their victory with a late penalty.
Thursday, 21st September
2023
#2. France vs Namibia (96-0)
France effortlessly secured a resounding 96-0 victory over Namibia in Rugby World Cup Pool A, held in Marseille.
However, the primary cause for concern revolved around the French team's captain, who sustained a significant facial injury as a result of a head on collision with Namibia's captain Johan Deysal, posing a potential threat to his participation in the tournament.
Nevertheless, there are murmurings of a swift return to the field, buoyed by the prospect of a specially designed protective mask that could enable him to continue playing despite undergoing recent surgery for a fractured cheekbone.
Undoubtedly, this triumph marked France's most substantial victory, characterized by an astounding 14 tries, including a remarkable hat-trick by Damian Penaud.
France started strong with an early try executed by Penaud, which was swiftly followed by a series of tries by Jonathan Danty and Charles Ollivon, catapulting Les Blues into the lead.
Penaud and Danty were soon back to add more tries onto the scoreboard, with Thibaud Flament, Dupont, and Louise Bielle-Biarrey making their mark in contributing to a commanding 54-0 lead by halftime.
Namibia soon responded with an attempt to cross the line in the second half, but the try was disallowed due to a high on Dupont, which saw Namibia's Johan Deysel receive a red card, and Dupont leaving the field with a worrisome facial injury, that would later be diagnosed as a fractured cheekbone.
With one man down, and the Les Bleus levelling out at just 14 players with 35 minutes on the clock, France continued the onslaught with additional tries coming through Baptiste Couilloud, Penaud Bielle-Biarrey, Ollivon, Melvyn Jaminet, and a penalty try, with Thomas Ramos successfully converting 12 of his 13 attempts.
As France's previous largest win stood at a highly respectable 87-10 against Namibia back at the 2007 World Cup in Toulouse, it was at this moment that France broke their own record, with a staggerring 96 point lead.
However, despite leading the pool with 13 points from their three wins, France's spot in the quarter final is not yet guaranteed.
New Zealand and Italy, especially if they top the standings could still present a considerable challenge.
Friday, 22nd September 2023
#3. Argentina vs Samoa (19-10)
Los Pumas bagged their first win at this year's Rugby World Cup by defeating Samoa 19-10 in a closely contested match in Pool D.
It was Emiliano Boffelli who kicked things off, adding 11 more points onto the scoreboard with his kicks, while Nicolas Sanchez contributed a late penalty to seal the victory for Argentina, keeping them in contention for a spot in the quarter-finals.
Samoa, who had Duncan Paia'aua sin-binned in the first minute of the match, made a late push with Sama Malolo's converted try and Christian Leali'ifano's penalty, but it was not enough.
With Paia'aua' sent to the sin bin, Argentina capitalized on Samoa being a man down, and Boffelli secured a try, following through to complete it with a conversion. From here, Boffelli added three sucessful penalties, while Leali'ifano secured a penalty for Samoa in retaliation.
After their previous loss to England, this victory gives Argentina hope of progressing further in the tournament. Samoa, on the other hand, will need positive results against Japan and England to advance.
As it stands, England leads Pool D with nine points for their two games, followed by Samoa in second place, Japan in third, and Argentina succumbing to fourth place with four points.
Saturday, 23 September 2023
#4. Georgia vs Portugal (18-18)
Portugal and Georgia clashed last Saturday, ultimately concluding their match with an intense 18-18 draw at Stade de Toulouse.
Portugal came tantalizingly close to securing their first-ever Rugby World Cup triumph, thanks to two tries by Raffaele Storti. However, the game took a dramatic turn as Georgia's Tengizi Zamtaradze scored a late try just two minutes before the final whistle.
Unfortunately for Georgia, Luka Matkava missed the conversion, and Portugal's hopes were also dashed when they failed to capitalize on a last-minute penalty kick that could have secured the win.
In the first half, both teams notched tries through Georgia's Akaki Tabutsadze and Portugal's Storti, who executed a spectacular run over the try line.
The sin bin became a talking point as Francisco Fernandes of Portugal received a yellow card just before halftime, and Georgia led by eight points with a halftime score of 13-5.
As the second half began, two penalties were successfully converted by Portuguese scrum-half Samuel Marques, and Storti's try seemed to pave the way for a historic Portuguese victory.
However, Zamtaradze's late try, coupled with Nuno Sousa Guedes' missed kick, denied them the win.
Jerónimo Portela, Portugal's fly-half and the designated Mastercard Player of the Match, commented on the closely contested final moments, expressing the team's disappointment but also their determination to improve after putting Georgia through their paces:
Levan Maisashvili, the Head Coach of Georgia acknowledged Portgual's comeback from the 13-0 defecit at half time, attributing it to rugby's unpredictable nature:
"We know their team but we didn't execute our opportunities when we had a chance to play. We lost a lot of balls today, lost our breakdown. Portugal played very well in the second half."
Portugal's head coach, Patrice Lagisquet, acknowledged the team's struggles in the first half but was content with the final result, highlighting the positive aspects of the match.
The first half was so poor, we were missing our kicking game, mistakes in the lineout, we were not disciplined. But we were still in the game at half time. "I'd have liked that ball to go over [at the end] but the result is good for us."
#5. England vs Chile (71-0)
In the Rugby World Cup match last Saturday, England squared off against Chile, and despite a challenging start in the initial 20 minutes, they significantly elevated their performance during the second quarter.
It was Arundell who ignited England's momentum, registering his first two tries. Notably, Theo Dan and Bevan Rodd celebrated their maiden Test tries, bolstering England's lead.
The brilliance of Marcus Smith's playmaking skills further cemented their dominance, resulting in a commanding halftime lead of 31-0, with the bonus point already in the bag.
As the second half commenced, Chile's Matias Dittus received a yellow card just four minutes in for an infringement on his own line. England continued their domination, with Theo Dan scoring his second try, while Arundell added three more to his tally for Steve Borthwick's squad.
England's offensive prowess persisted, with additional tries coming from Smith and Jack Willis. Owen Farrell's precise kicking contributed 16 points to England's tally, culminating in a resounding 71-0 victory by the match's conclusion.
This triumph firmly maintains England's grip on Pool D, preserving their unblemished record and propelling them closer to securing a place in the quarter-finals.
The match had a somewhat turbulent start for England, despite their early territorial advantage, as they struggled to convert it into points. Chile, with their fluid passing and counter-attacks, managed to maintain a scoreless tie for the first 15 minutes.
However, England's breakthrough occurred in the 21st minute when Arundell capitalized on a scrum penalty, courtesy of an impeccably placed pass by Farrell. This pushed England ahead with a 5-0 lead.
Merely three minutes later, Dan powered over the try line following a robust driving maul by England, with Farrell expertly converting, further extending their lead and placing Chile in a challenging position.
Arundell secured his second try just over ten minutes before the first half concluded. Farrell executed a quick penalty, and Dan delivered a pinpoint pass, facilitating Arundell's try and elevating the score to 17-0.
As Chile's energy waned, England capitalized, and Rodd clinched the bonus point with his try, achieved by powering over from close range.
Smith exhibited his brilliance as he collected his own kick and executed a dive over the try line, with Farrell converting both efforts, resulting in an impressive 31-0 halftime lead for England.
The second half proved to be an even more demanding period for Chile, as Dittus, their prop, received a yellow card for an infraction on his own line a mere four minutes into the half.
Dan capitalized on this advantage, scoring his second try from a maul, and Farrell's conversion further expanded England's lead to 38-0.
Arundell continued his scoring spree, notching a hat-trick and adding a fourth try by executing a precise chip and collecting the ball in the 60th minute. Farrell's conversions propelled England beyond the half-century mark.
Chile managed to fend off England's onslaught for a brief period, but Arundell found the try line once again, courtesy of a pass from Smith. Smith subsequently secured his second try with just three minutes remaining, rounding off a pass from George Ford. In the final moments, Willis scored under the posts, with Farrell converting to seal a commanding 71-0 victory.
#6. South Africa vs Ireland (8-13)
Ireland displayed remarkable determination and stamina as they overcame their struggles in the lineout to secure a pivotal 13-8 victory against South Africa in a crucial Rugby World Cup Pool B match.
Mack Hansen set the stage with a sensational try for Ireland, while Captain Johnny Sexton exhibited his kicking prowess by contributing five points, and Jack Crowley added three more points after coming off the bench.
Despite the setback of losing six lineout throws, Ireland fought hard and emerged victorious at the Stade de France.
Although South Africa exhibited moments of brilliance through Cheslin Kolbe's try and Manie Libbok's penalty, their efforts were thwarted as they missed four other penalty attempts. Despite Ireland's challenges with the lineout, their scrum remained resolute, even in the face of South Africa's controversial 7-1 replacements bench.
Ireland began the match strongly, with hooker Ronan Kelleher making an impact in physical confrontations, and Damian Willemse kicking the ball into touch. However, Franco Mostert's efforts on the South African side foreshadowed a challenging contest.
In the third minute, Ireland had an opportunity to take the lead with a close-range penalty. However, they chose to kick towards the corner, a decision that backfired as South Africa once again disrupted their lineout.
Peter O'Mahony of Ireland was penalized for infringing at the breakdown inside the 22, allowing Manie Libbok to kick South Africa into a 3-0 lead in the sixth minute.
A crooked lineout throw by Kelleher in Ireland's 22 provided South Africa with a golden scoring opportunity. Despite Damian de Allende's powerful carry through Johnny Sexton, James Lowe managed to strip the ball from South Africa under the posts.
Ireland's relentless pressure and excellent handling by Sexton led to Mack Hansen's try, which gave Ireland a 7-3 lead after Sexton successfully converted the score just before halftime.
South Africa made changes to their tight five and displayed strong scrummaging abilities. They opted for a five-meter scrum after earning a breakdown penalty in Ireland's 22. Cheslin Kolbe scored a try out wide off a powerful drive, with no formal review conducted for potential obstruction by Kriel in the build-up.
Manie Libbok missed the conversion, and around the one-hour mark, South Africa had a significant opportunity. After they forced an Irish knock-on through a counter-ruck near the Boks' 22, Ireland's pack surprisingly earned a scrum penalty against the head. Sexton's successful kick restored Ireland's lead.
South Africa attempted a similar scrum tactic on the opposite end, forcing their own scrum penalty on the opposition feed. However, Libbok's wide miss from the tee provided Ireland with another reprieve.
In the closing stages, Ireland advanced to the opposing end, and although Crowley's attempted drop-goal was charged down and went dead, they were awarded a five-meter scrum. This resulted in a penalty and three additional points when South Africa were penalized for an early drive.
Ireland, holding a five-point lead, seemed to have secured the victory. However, a final breakdown penalty gave South Africa one last opportunity with a lineout attack. They attempted to maul their way to the Irish try-line but were valiantly thwarted by a fatigued Irish defense.
Sunday, 23rd September, 2023
#7. Scotland vs Tonga (45-17)
Scotland rekindled their hopes of advancing to the Rugby World Cup quarter-finals with a 45-17 victory over Tonga in Pool B last weekend.
In a highly competitive group that includes heavyweights like Ireland and South Africa, Scotland needed a strong performance, especially after their previous loss to the Springboks. They rose to the occasion and secured a crucial win in the second half.
Scotland scored a total of seven tries, with George Turner, Duhan van der Merwe, Kyle Steyn, Rory Darge, George Horne, Blair Kinghorn, and Darcy Graham all making their mark by crossing the try line.
Tonga responded with two tries of their own, courtesy of Solomone Kata and Ben Tameifuna. However, Tonga now faces the daunting task of beating South Africa to keep their hopes of progressing alive.
Scotland took an early lead when George Turner powered over from a rolling maul, and Finn Russell added the extras with a successful conversion.
Tonga fought back and narrowed the gap with a penalty from William Havili before taking the lead with Kata's converted try.
However, Scotland quickly regained control before halftime, with tries from Van der Merwe, Steyn, and Darge, resulting in a 28-10 lead. Tonga's Afusipa Taumoepeau was sin-binned following a high challenge, compounding their woes.
Scotland maintained their dominance in the second half, trading tries with Tonga. George Horne scored after a superb setup by Van der Merwe, and Kinghorn added another try, with Russell converting it.
In the 80th minute, Scotland sealed their victory with a seventh try courtesy of Darcy Graham.
In addition to their triumph, Scotland faced the unfortunate loss of hooker Stuart McInally, who was forced out of the World Cup squad due to a neck injury. Johnny Matthews stepped in as his replacement, marking a dramatic turn of events after McInally's initial exclusion from the squad.
#8. Wales vs Australia (40-6)
Last Sunday, Eddie Jones witnessed his Australian team suffer an overwhelming defeat in Lyon. Rather than a sudden collapse, it felt more like a gradual and agonizing deterioration in their performance.
Gareth Anscombe's continuous barrage of penalties and a well-placed drop goal increased the pressure on Australia as Wales dominated the game from the outset.
The final score? A staggering 40-6 victory for Wales, marking their largest-ever win against Australia. They systematically dismantled the Australian side without mercy, despite Eddie Jones' previous statement that he had no doubts the Wallabies would win.
In a shocking turn of events at the Rugby World Cup, Australia exited in the group stage, and Eddie Jones's coaching tenure appears to be following suit.
His second stint as head coach has left the team's reputation in ruins, with a 0% win rate against top-tier teams. Six games, six losses, and the first loss to Fiji in nearly seven decades tell the story.
On the flip side, Warren Gatland's return to Wales has been nothing short of remarkable. Despite off-field controversies, including player strikes, Wales has risen to the top of their World Cup group. They now look poised to face Argentina or Japan in the quarter-finals.
Even after the early loss of Dan Biggar due to a shoulder injury, Wales showed no signs of letting up and put on an impressive display. Jac Morgan, in particular, stood out with a try, a try assist, a 22:22 kick, and pivotal contributions at the breakdown.
Wales is emerging as a serious contender for a coveted spot in the semi-finals.
During the match, Eddie Jones was met with boos from the crowd as Wales got off to a strong start with an early try. While Australia made adjustments, switching their fly-half, it couldn't prevent Wales from accumulating points through penalties.
As the game progressed, Australia's situation went from bad to worse…
Anscombe's precise penalty kicks and a clever chip kick that set up Nick Tompkins for a try left Australia trailing. The game concluded with more Anscombe penalties and a drop goal, further compounding Australia's misery.
In summary, it was a slow and painful defeat for Australia, marking their historic exit from the World Cup and possibly signaling the end of Eddie Jones's coaching tenure. Meanwhile, Wales showcased their skills and professionalism on their way to a significant victory.
Missed out on Week 2?
We've got you covered! Check out the results from the Second Round of the 2023 Rugby World Cup now!