Skip To: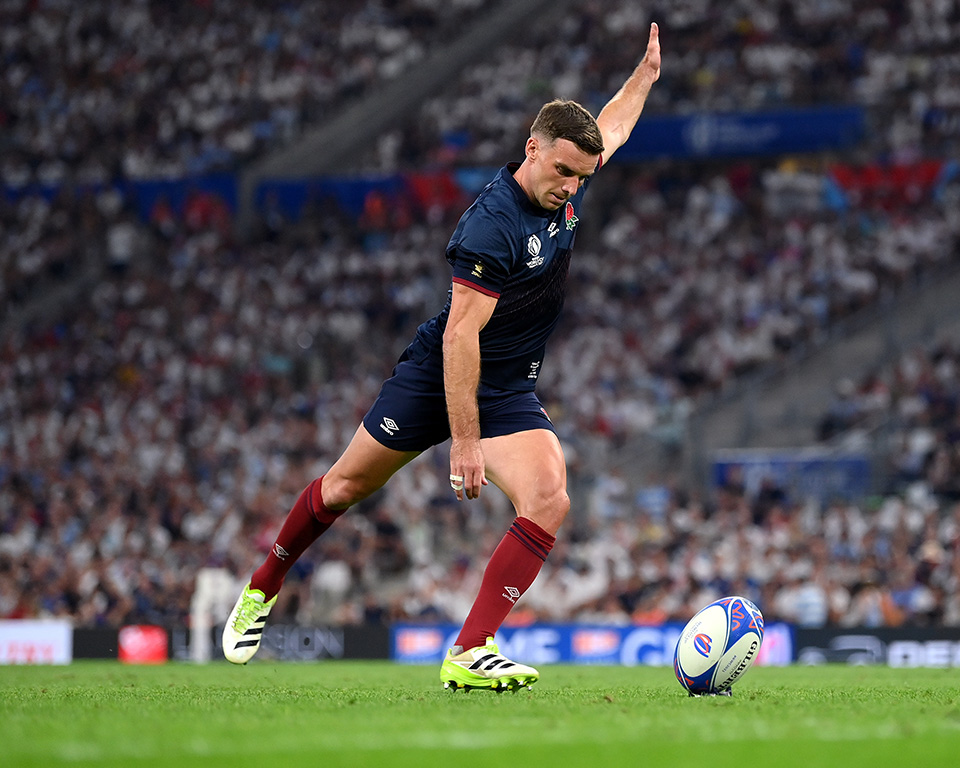 Friday September 8
#1. France vs. New Zealand (27-13): A Thrilling Start
The Rugby World Cup burst into life with a bang as France, under the dazzling lights of the iconic Stade de France in Paris, stole the show with a breathtaking victory over the mighty New Zealand last Friday against the three-time RWC champions.
Right from the very first whistle, this clash promised fireworks, and it delivered in spectacular fashion. New Zealand's Mark Telea exploded onto the scene, scoring with lightning speed in both halves, setting the stage for a jaw-dropping start that threatened to cast a shadow on France's grand opening.
But as the clock ticked down, it was France's unwavering determination that shone through. Thomas Ramos, with nerves of steel, sent the ball sailing through the posts with pinpoint precision, and a brilliantly executed try by Damian Penaud showcased their creativity and flair, putting them ahead of the valiant yet fading All Blacks.
In the 73rd minute, Ramos' trusty boot added another penalty, taking France beyond the seven-point range on the scoreboard. The home fans erupted with joy, knowing that their team was on the cusp of securing a remarkable victory.
And then, with just three minutes left on the clock, the stage was set for the ultimate climax. The sensational Melvyn Jaminet swooped in like a hawk, seizing Maxime Lucu's tantalizing chip to seal the deal.
The Stade de France erupted into wild ecstasy as the French faithful celebrated a triumph to remember.
Saturday September 9
#2. Italy vs. Namibia (52-8): Italy's Second-Half Surge
In what marked their '23rd consecutive World Cup defeat,' Namibia found themselves on the wrong end of a substantial loss to Italy last Saturday, marred by an uneventful first half performance from the Azzuri.
Italy, began their journey with a series of errors, only to come to life during the second half at the Stade Geoffrey-Guichard, ultimately securing an impressive 52-8 victory over Namibia.
At halftime, Italy held a commanding 17-8 lead, highlighted by a spectacular 60-meter try courtesy of rugby prodigy Ange Capuozzo. Their dominance was further underlined as they secured a bonus point with seven tries in total.
Despite their previous nine World Cup appearances failing to yield a spot in the knockout stages, Italy exhibited great promise in Saturday's showdown in Saint-Etienne.
While Namibia's playmaking left their fans frustrated, denying them their elusive first World Cup win after 23 consecutive games, there were glimmers of hope provided by winger Gerswin Mouton and Tiaan Swanepoel, who played pivotal roles.
Interestingly, history seemed to repeat itself, as Namibia's only points in the 2019 tournament also came against Italy, resulting in a considerable 47-22 defeat.
With formidable opponents like hosts France and New Zealand looming on the horizon, Italy's coach, Kieran Crowley, will be striving for continued success and improved performance as they prepare to face Uruguay at the Stade de Nice on September 20.
Namibia, on the other hand, will have a second chance to showcase their abilities, taking on the All Blacks just five days earlier at the Stadium de Toulouse.
#3. Ireland vs. Romania (82-8): Ireland's Blazing Start
Ireland's World Cup journey kicked off in Bordeaux with a blazing display of rugby brilliance that left fans on the edge of their seats last Saturday! The scoreboard lit up with an electrifying 82-8 victory over Romania, and it was a match for the ages…
Johnny Sexton, Ireland's fearless captain, was nothing short of extraordinary, racking up a jaw-dropping 24 points, including two sensational tries. His performance solidified his legendary status as Ireland's all-time leading Rugby World Cup points scorer, and the crowd couldn't get enough of him.
The game started with a bang as Romania stunned everyone by taking an early lead in just the third minute. Hinckley Vaovasa orchestrated a spectacular play, sending Gabriel Rupanu soaring over in the corner. But Ireland was not about to let Romania steal their thunder.
Just two minutes later, Jamison Gibson-Park unleashed the first of Ireland's five first-half tries, setting the tone for their domination.
Hugo Keenan, Tadhg Beirne, Bundee Aki, and the unstoppable Sexton himself all etched their names on the scoresheet during a first half that showcased Ireland's unrivaled prowess.
And the excitement didn't stop there. The second half was an absolute rollercoaster, with Ireland piling on seven more tries. Rob Herring, the Player of the Match, Peter O'Mahony (who dazzled with two tries), Sexton (who left the field to a thunderous ovation in the 65th minute), Joe McCarthy, Aki, and Beirne, all joined the party, leaving fans breathless.
Peter O'Mahony, Ireland's dynamic flanker and Mastercard Player of the Match, had this to say about the game:
"Credit to Romania. You saw the way they started. In the first two or three minutes, they put us under pressure. It was a wake-up call for us – a 'welcome to World Cup 2023' moment. But it was a pleasure coming out here today. The fans here were amazing, and scoring 80 points in our first match, we're delighted with that."
But the story doesn't end here. Romania's journey continues with a showdown against the powerhouse that is South Africa, the world's second-ranked team. And they'll follow that up with a clash against Scotland, currently ranked fifth. Captain Cristian Chirica reassures Romanian fans watching from afar:
"Stay with us because as a smaller team, we will give everything we have to make you proud."
It's a promise of more thrilling rugby action to come!
#4. Australia vs. Georgia (35-15): The Wallabies' Dominate
Eddie Jones' Australian squad kicked off their 2023 Rugby World Cup Pool C journey with a victorious flair following a 35-15 triumph over the tenacious Georgian underdogs at the vibrant Stade de France.
The Wallabies wasted no time igniting the scoreboard, with early tries courtesy of outside-centre Jordan Petaia and the lightning-quick wing Mark Nawaqanitawase. The ever-reliable full-back Ben Donaldson chimed in, slotting three penalties, propelling Australia to a commanding 18-3 lead by halftime.
Georgia, showing their mettle, managed to register a Luka Matkava penalty and orchestrated two exhilarating tries in the second half. These exploits came from the openside flanker Luka Ivanishvili and the powerhouse prop Beka Gigashvili.
They sandwiched a brilliant brace of tries by the versatile Donaldson, ensuring Australia's triumphant path. The Wallabies sealed the try bonus-point with just 11 minutes remaining.
The electric atmosphere at the Stade de France, though perhaps not as feverish as the opening night festivities when the hosts vanquished the All Blacks, was palpable. Australia contributed by stifling any hopes of an upset that the majority of the 75,770 spectators might have yearned for.
Center Petaia made an early statement, making his way across the try line within the first two minutes. His break sent the explosive winger Nawaqanitawase soaring over for another try merely seven minutes later.
Subsequently, Donaldson took command of the kicking duties, keeping the scoreboard ticking over.
The Georgians, pinned deep within their territory by Australia's relentless kicking, grew increasingly exasperated. This frustration led to the left winger Mirian Modebadze receiving a yellow card just before halftime.
After the break, the Lelos emerged with renewed determination, still down to 14 men. They managed to narrow the deficit to 21-8 when flyhalf Luka Matkava launched a looping pass to find flanker Ivanishvili on the left wing.
In the 56th minute, Georgia's fullback, Davit Niniashvili, finally found some room to maneuver. However, his ambitious backward pass found only the outstretched hands of Taniela Tupou, the formidable Australian prop. Tupou's skillful offload sent Donaldson over for his first try.
Australia, still struggling to find their rhythm in the sweltering heat, witnessed flyhalf Carter Gordon summoning a moment of brilliance. Gordon delivered a sublime long pass, creating a chasm in Georgia's defense that allowed Donaldson to glide through and secure the bonus point.
The Georgians, ever resolute, continued their spirited efforts. Yet, Nawaqanitawase produced a mesmerizing try-saving tackle to thwart winger Akaki Tabutsadze. It was a jaw-dropping display of defensive prowess. Eventually, the replacement prop Gigashvili bulldozed his way over from close range in the dying moments, leaving a lasting impression on an exhilarating encounter.
#5. England vs. Argentina (27-10): Ford's Kicking Mastery
George Ford illuminated England's path with a career-defining performance against Argentina on the weekend, eclipsing even the legendary Jonny Wilkinson with his exceptional kicking prowess.
Despite losing Tom Curry to a red card within just three minutes due to a head-on collision with Juan Cruz Mallía, England's defense rose to the occasion. This tenacity, led by the relentless efforts of Ben Earl and Courtney Lawes, evoked memories of England's triumphant World Cup campaign against Australia 16 years prior.
While the Pumas squandered pivotal opportunities, George Ford seized the moment with his precision kicks, ensuring victory for England.
The early setback of Curry's red card signaled an uphill battle, compounded by Santiago Carreras' yellow card, as decreed by the French referee.
Amid pre-game nerves, Ford's display, including three drop goals, ignited hope for England.
Despite occasional missed chances, the Pumas struggled to apply sustained pressure, with their only points coming from an Emiliano Boffelli penalty.
After halftime, the Pumas failed to capitalise, plagued by errors, while England's unyielding defense rectified previous vulnerabilities.
Ultimately, England emerged as the dominant force, fueled by their determination to overcome adversity. Although Curry's status remains uncertain, George Ford's outstanding performance heralds a promising future for England, with Owen Farrell expected to return against Japan on Sunday 17th September.
Sunday September 10
Japan vs. Chile (42-12): A Spirited Start
Japan faced an early scare in their Rugby World Cup clash against tournament debutants Chile. Similar to Tom Curry's challenge a day earlier, Chile's captain, Martin Sigren, was penalised for a head-on-head collision with Kotaro Matsushima. While Curry's incident resulted in a red card, Sigren escaped with only a penalty.
Curry's red card is currently being reviewed, with an independent Judicial Committee in Paris scheduled to determine its validity and any potential suspension length. The committee will be chaired by Adam Casselden SC (Australia), accompanied by former players John Langford (Australia) and Jamie Corsi (Wales).
Despite Sigren avoiding a red card, Chile, the lowest-ranked team in this year's tournament, displayed that they were not mere participants. Rodrigo Fernández scored their opening try just six minutes into the World Cup campaign.
Under the guidance of coach Pablo Lemoine, Chile demonstrated a style of play emphasizing quick ball and relentless defense. They showcased these qualities against Japan but were hindered by their own disciplinary issues.
Chile's early lead was short-lived, as Japan swiftly responded with a try from Amato Fakatava, their lock.
Nonetheless, Chile continued to exhibit energy and determination.
Chile's excitement at making their World Cup debut occasionally led to indiscipline, resulting in two first-half tries for Japan while they had 14 players on the field. Matias Dittus was penalised for a late challenge on Japan's Koo Ji-won, followed by the Sigren incident.
Japan took advantage of the numerical superiority, with Jone Naikabula scoring after sustained pressure in Chile's territory. Fortunately for Chile, neither incident was upgraded to a red card.
Japan displayed composure after initially falling behind and exhibited more tactical awareness than their South American counterparts. Fakatava scored his second try shortly after halftime, but Chile's momentum was disrupted when Dylan Riley received a yellow card for an illegal interception.
Chile capitalized on the one-man advantage, with flanker Alfonso Escobar scoring their second try from close range, offering hope of securing a losing bonus point.
Japan then accelerated away, securing tries through Michael Leitch, Ryoto Nakamura, and Warner Dearns. The final scoreline may have flattered Japan, but they face a more challenging test against England in their next match in Nice.
South Africa vs. Scotland (18-3): Reigning Champions Prevail
In their Rugby World Cup 2023 opener, the reigning champions South Africa secured a hard-fought victory over Scotland, winning 18-3 at Stade de Marseille on Sunday.
The halftime score saw the Springboks holding a slim 6-3 lead, with two Manie Libbok penalties for South Africa and one from Scotland's Finn Russell.
However, the second half showcased South Africa's dynamic playstyle. Pieter-Steph du Toit powered over the try line from close range, followed by Kurt-Lee Arendse's well-executed try in the corner, courtesy of Libbok's pinpoint cross-field kick.
Libbok, named the Mastercard Player of the Match, commented:
"I saw the space out wide, knew what I wanted to do, and made it happen. I've practiced those moves extensively, so it's satisfying to see them pay off. I'm thrilled with how our first game went."
Head coach Jacques Nienaber acknowledged that the game was more closely contested than the score suggested, saying:
"We were only ahead 6-3 at halftime, despite having control. Scotland is a tenacious team, and they deserve credit. We had to fight for this win."
In Pool B, South Africa currently holds the second position, behind Ireland, who defeated Romania on Saturday. Meanwhile, Scotland enters their bye week, recognising the need for improvement.
Coach Gregor Townsend outlined his plans, stating:
"We'll give everyone a three-day break to step away from rugby. Then, we'll have a ten-day preparation period for our match against Tonga, which promises to be a demanding encounter. We understand the need to elevate our performance."
Captain Jamie Ritchie echoed the sentiment, saying:
"We struggled to execute under pressure. Our team prides itself on seizing opportunities, so we must raise our game. We'll regroup and remember that the hard work we've put in still matters, and we have more to achieve."
Fiji's Grit Falls Short: Wales Triumphs 32-26
Wales seemed to have the game in their grasp, leading 32-14 with 62 minutes on the clock against Fiji. However, Fiji nearly orchestrated one of the most remarkable comebacks in Rugby World Cup history, with Semi Radradra missing a crucial opportunity to secure the win.
Wales did have some standout moments, including strong defensive plays and a well-executed try that stemmed from the combination of Nick Tompkins and George North.
Additionally, a clever cross-field kick resulted in a try, and Dan Biggar's passionate performance, especially on his late mother's birthday, was a highlight.
Nevertheless, Wales received what could be considered a fortunate yellow card, while Fiji's Lekima Tagitagivalu was arguably harshly penalized with a sin-bin. It's worth noting that Fiji's performance deserved more recognition, and it highlighted their need for more high-level Test matches outside of World Cups.
Vinaya Habosi delivered memorable tackles, and Waisea Nayacalevu displayed exceptional running skills during the first half.
Despite Fiji's strong performance in the opening period, Wales managed to enter halftime with an 18-14 lead.
Wales appeared to be in control early in the second half, but the impact of Fiji's substitutes Levani Botia and Josua Tuisova changed the game dynamics. Although Elliot Dee scored a try for Wales, and Mesake Doge added a late try for Fiji, it seemed like Wales had secured the result.
However, Fiji made a thrilling late surge, with Josua Tuisova scoring a try and both teams chasing bonus points.
In the end, it was Semi Radradra's handling error that prevented Fiji from achieving a historic victory.
To sum it up, Wales initially held the upper hand, but Fiji's remarkable comeback effort, hindered by Radradra's mistake, made for an exhilarating contest.
Like what you see? Let us know in the comments your thoughts on Round One, alongside any predictions you may have for Round Two. We'd love to hear from you!
In the meantime, be sure to stay in the loop with the latest Rugby News, Guides & Boot Launches right here at The Full 80. You won't want to miss!