Skip to: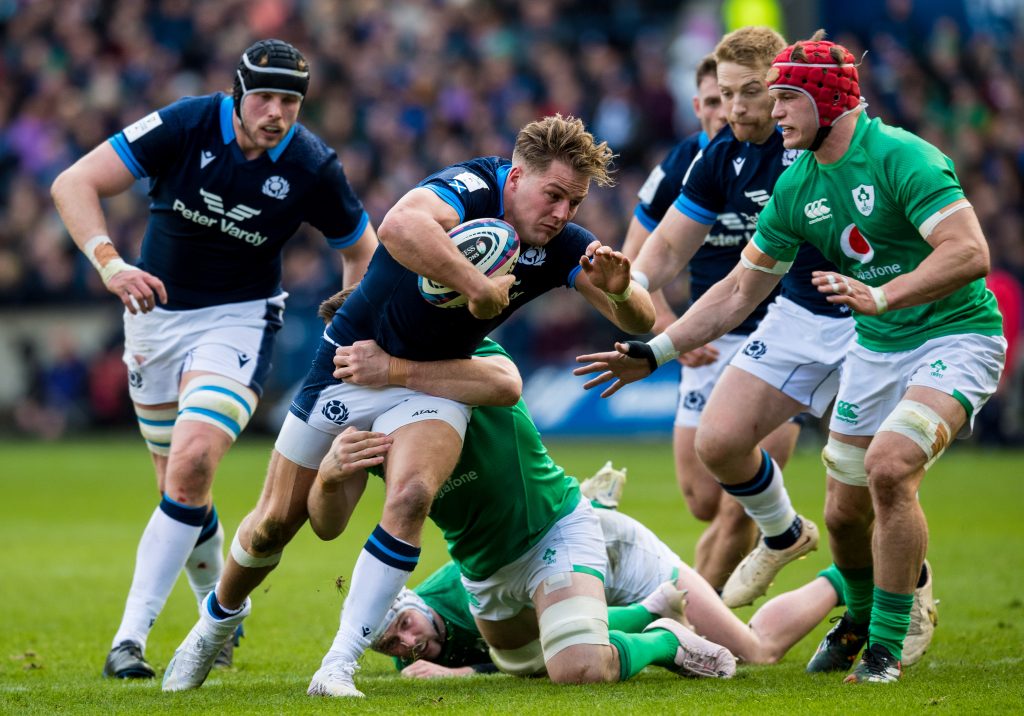 Italy sought to dominate the Dragons last weekend in what many would consider a sensational effort from Wales.
With both sides stepping out onto the pitch with neither team having emerged victorious in their games thus far, Wales clinched the win over Italy with their exceptional playmaking.
06′:

0-3 (Penalty Wales)
In an early exchange between the two sides, each thirsting toward emerging victorious, it was Owen Williams who got the ball rolling, his routine penalty putting Wales into a 0-3 lead within the first 06′.
08′:

0-10 (Rio Dyer Try)
Rhys Webb was next in the 08′ to deliver an astonishing box-kick for Wales that would secure them their first try of the match.
Azzurri's Pierre Bruno clambered to defend his side, with budding defender Tommy Allen almost gaining possession of the ball.
But to both players' and fans' surprise, a second bounce of the ball on the Azzurri side saw the ball come back infield, and Wales Rio Dyer raced down the wing, the ball seamlessly landing into Dyer's arms before breaking to the try line.
15′

: 3-10 (Allan Penalty)
Italy, considerably shaken until the 15, saw brief moments of compromised playmaking from Ignacio Brex's knock-on, Paolo Garbisi not lining up his kicks correctly and a hopeful attack formation breakdown with Menoncello placing too much power into his pass that escaped the clutches of Padovani.
But while rattled, Tommaso Allan's penalty in the 15' was what placed the Azzurri on the board.
17′:

3-15 (Liam Williams)
Just minutes later, Wales were to extend the lead over their unsuspecting rivals, with Williams scooping up the ball of Faleau's bounce pass, leaning head first into the jaws of the Azzurri defence, biting down on the try line.
Italy would have soon followed with a try from Brex had the Centre not been ruled out for his unfortunate knock-on ball.
33′

: Penalty Try Wales
Owen Williams was back yet again to take another penalty for the dragons, but his long-distanced penalty attempt went wide, denying Wales an additional 3 points onto their 12-point lead.
But in true Wales fashion, it didn't take long before the dragons were back on form.
A penalty try for the visitors in the 33′ saw Wales achieve a significant 22-3 lead, leaving a sour taste in the mouths of Italy, especially as the hosts of the game.
To make matters worse for Italy, Lorenzo Cannone followed up with a yellow card for illegally stopping a rolling maul moments later.
A frustrating first half for the Azzurri!
42′:

10-22 (Negri Try)
Desperate to tighten the gap , Italy found their silver lining through Flanker Sebastian Negri two minutes into the second half.
Fastening his grip onto the ball, following a daring chip shot from Allan, the Flanker dived over the Try line, with none other than the man who made it all possible, Tommaso Allan, following with a conversion to bring the score to 10-22.
But whilst in high spirits at closing the gap, luck was not on the Azzurri side as Bruno soon became penalized for his contact with Wyn Jones' neck bringing Italy down to just 14 members.
49′

: 10 -29 (Faletau Try)
In what can only be considered a heated start to the second half, Winger Josh Adams almost saw an immediate advantage over the Azzurri before being denied his try thanks to Stephen Varney's showstopping tackle.
But whilst denied yet another opportunity to put one past Italy's defence, Rhys Webb's set-up for Taulupe Faletau saw a bonus point secured for Wales.
Owen Williams' soon-after conversion brought Wales to a 29-10 lead just moments later.
67′

: 17-29 (Brex Try)

In true Azzurri fashion and with the support of fans cheering on the hosts in the stands, it wasn't long until Italy fought back.

With a sensational offload from Bruno, it was Centre Brex who stepped up to secure yet another try for the Azzurri, but whilst a valiant effort to claw it back for his side, time was not on their side despite several opportunities to follow through in the Welsh 22, Wales held their own.

France dominated England last Saturday (11th March) to secure Les Bleus their first Championship win at Twickenham since 2005, delivering England a record home defeat- the scores concluding a 10-53 victory to France.
01′:

0-7 (Ramos Try)
By nature, Les Bleus don't waste much time to put one past their competitors with quick starts.
Having already secured a try within only five minutes of their matches against Italy in Round One and Scotland in Round Three, Les Bleus soon followed suit against England within the first minute of the game.
Rushing up the field and evading England's Jack Willis, Flament passed the ball to Ethan Dumortier on his left side to create distance from England's defence.
Supporting on the wing, Ramos soon emerged alongside the Winger before receiving the ball and breaking for the try line.
One minute in and the pressure was on!
6′:

0-10 ( Penalty Ramos)
Ramos was back again within the 6′ to secure a penalty for his side that would bring France 10-0 up, but the onslaught was only just getting started…
25′:

0-17 (Flament Bulldozes England to the Try Line)
A second try later followed in the 26′, with thanks due to no other than Les Bleus' Captain, Antoine Dupont and his electrifying box-kick that saw France dominate England's side and break through their defence and rush toward the try line.
A superb lineout routine from Les Bleus, and one that saw Flament bound over the try line thanks to a swift short pass from Dupont.
33′

: 3-17 (Penalty Smith)
Now desperate to uphold their reputation following a series of wins against Italy in Round 2 and Wales in Round 3, England needed to get on the board soon to stand a chance at seeing a positive outcome.
It was none other than Marcus Smith who spliced through the posts with his penalty to put the Red Roses on the board.
35′:

3-20 (Penalty Ramos)
But in true Les Bleus fashion, it wasn't before long that Ramos re-instated his side's 17-point lead to bring the score 3-20 to France.
40-42′

: 3-27 (Ollivon Try)
Whilst Les Bleus love quick starts, it's clear their mentality toward making every second count rings true in also how they finish too (at least within the first-half).
Following on from a scrum inside of England's 22, France drove forward toward the blindside, resulting in Flanker Ollivon paving his way over the try line to secure a third try for Les Bleus that would be later converted by Ramos to bring Les Blues 22 points up.
47′:

10-27 (England Come back with Steward Try)
As the second half commenced, England came back with what seemed like a game plan, having been obliterated for the first-half of the match.
Placing Alex Mitchell at Scrum-Half and Owen Farrell toward the inside centre alongside Smith, it was clear a brief strategy plan with Borthwick was enough to shake up the score.
Now putting their plan into action, Mitchell's pass to Steward saw England close the gap to just 17 points.
56′:

10-34 (Flament Try)
Whilst ambitious to come back in full force in the second half, Fullback Steward's inability to take control of Dupont's drop ball inside his own 22 saw Ntamack outjump Steward and palm the ball back toward Flament who raced to the Try line for his second try in the match.
59′

: 10-41 (Ollivon Try)
Minutes later, a drop-ball from Ollivon saw Marcus Smith hunt down the ball in a frenzied panic as England's defence faltered and the Fly-Half sought to fall back to protect their side from further disappointment.
With Smith now losing ground, Ramos and Ollivon continued to push the Fly-half back, with England defenders scrambling to support the 24-year-old.
Now losing contact with the ball, Ollivon saw his opportunity and secured the touchdown for his side by reaching over.
A valiant effort from Smith, but no match for Les Bleus!
71′:

10-48 (Penaud Try)
To make matters worse, Penaud soon landed a try in the right corner following a cross-kick from Gael Fickou, outpacing England's Alex Dombrandt.
74′:

10-53 (Penaud doubles down)
Just minutes later, Penaud signed off France's already eye-watering lead over England with an astonishing try following a lineout to bring the score 10-53 to Les Bleus.
A historic win for Les Bleus!
Ireland secured their fourth consecutive win at the Six Nations Championship last Sunday as they embarked on securing a Grand Slam with their 22-7 victory over Scotland at Murrayfield.
0′:

0-0 (A Frantic Start)
Kickstarting the game at a frenetic pace, Scotland displayed early signs of intent with their attacking formation, but the Ireland defence proved strong.
In putting his boot to the ball, Finn Russell broke through the Ireland defence, but his attempt soon proved futile as the ball met Hugo Keenan.
A disappointing result for an attack that seemed hopeful, but Ireland's Johnny Sexton encountered a similar problem with his grubber finding the touchline.
Scotland came back with a lineout, but Ireland's Caelan Doris was at the receiving end of the throw.
Ireland was soon over Scotland's side, but their hopes were dashed as the lineout had been taken with a different ball.
12′:

0-3 (Penalty Sexton)
None other than Ireland's Sexton was the first to put Ireland on the board with his penalty to bring the side up by 3 points.
But whilst a valiant effort, an opportunity was missed for the Shamrocks only moments later when Scotland's Duhan van der Merwe executed an astounding try-saving tackle on Hansen.
16′:

7-3 (Huw Jones touches down for Scotland).
Having dominated the Scots territory for most of the start, Scotland soon bounced back with a 15-phase attack that put Ireland through their paces.
Unable to prevent the onslaught, Scotland raced and slipped through the grasp of the Shamrocks Forwards before a wide ball to the Backs found its way into the arms of Centre Sione Tuipulotu and then to Huw Jones who bolted over the Try line.
Just like that, Jones secured his fourth try of the Championship – electrifying!
Russell soon converted in the 17′ to secure a 4-point lead.
27′:

7-8 (Hansen Try)
Fueled with a newfound fire, Mack Hansen soon brought it back for his side as he slipped the clutches of Van der Merwe to place Ireland in the lead following an impressive touchline pass from Keenan.
A fantastic tackle from Merwe – just a second too late…
28′-40′

(Standstill)
Scotland regrouped and it was Jones that threatened Ireland's 1-point lead.
Just inches from securing a try for his side and doubling his try tally, Scotland's Keenan kept the score in Ireland's favour with his staggering tackle, followed by a turnover from Josh van der Flier that put the brakes on Scotland's attack.
A disappointing blow for Scotland in the first half.
56′:

7-13 (James Lowe Try)
With both sides now fighting to gain traction in the other's territory, James Lowe broke the stalemate 16 minutes into the second half.
Following on from a missed pass from Jamison Gibson-Park, the Winger slipped past Steyn to secure his third try at this year's Championship.
Sexton converted just moments later to bring the Shamrocks ahead by 6 points.
61′:

7-22 (Conan Secures Ireland's Third Try)
Hansen was back again with his exceptional playmaking to provide his astounding assist to Conan and bulldozed his way over the Try line.
Sexton again converted in the 62′ to widen the gap with their 15-point lead.
62′ -80′: (One Last Push)
Now dominating the pitch, Ireland was in pursuit of securing a bonus point in the closing stages of the match.
Gibson-Park bolted down the left side of the pitch to meet with James Ryan situated on the inside, but failed to sustain momentum as the Second Row stumbled forward, the try line in view.
As full-time was called, Ireland walked away victorious, securing four points, a score enabling them to continue in their pursuit of winning the Grand Slam against England in Round 5.
Round 4 Summary:
A fantastic fourth round! Congratulations to Wales, France and Ireland as they emerge victors of Round 4.
With Round 5 set to take place on the weekend, we can't wait to see how the teams fare as they make their way to the final. Will Ireland secure their Grand Slam? Time will tell…
For now, that's it from us here at The Full 80. Let us know in the comments your opinion on the round. Perhaps you've got predictions on how the teams will fare in the final round? We'd love to hear from you!
In the meantime, why not check out our predictions for the outcome of this year's championships here.