Skip to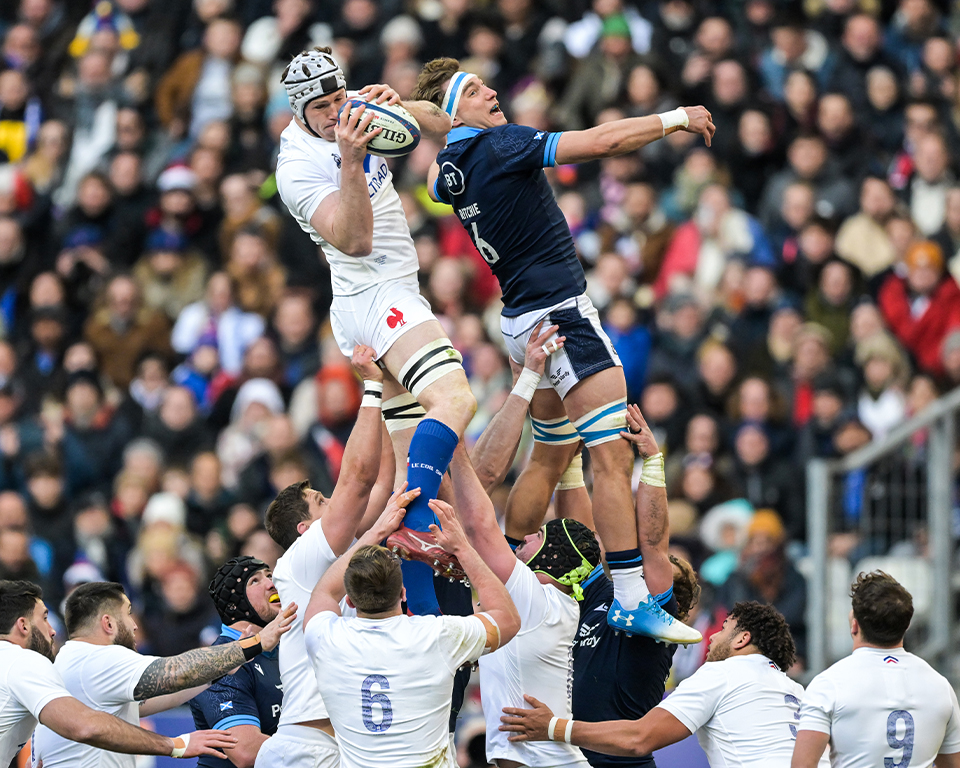 The Shamrocks certainly weren't letting up last weekend as they secured a sensational 20-34 victory against the Azzurri in what can only be regarded as some of the best playmaking to grace the pitch this Championship.
01′: 0-0
As the match commenced, it wasn't long until things began to get heated…
James Lowe dominated the left flank, slipping through the traps set by Les Bleus following a pass from Keenan, but with Ange Capuozzo hot on his tail, the pressure saw Lowe's ball slip from his grasp – a Try denied moments later.
02′: 0-3
But in true Ireland fashion, the luck of the Shamrock soon came into its own just a minute later.
Paving their way through the Azzurri defence, Bundee Aki's well-timed offload to Winger Lowe saw James Ryan put Ireland on the board.
06′: 7-5
Italy came back strong, entering Ireland's 22 in the 6th minute, Paolo Garbisi sending a missed pass into the clutches of eagle-eyed Lorenzo Cannone, bulldozing his way to the 5-meter line.
Seconds later, Scrum-half Stephen Varney allowed no time for Ireland's defence to settle, and dashed to the try line to secure his first Try in the Championship.
A proud moment for the Scrum-Half and one that saw an additional 2 points given for their side following Garbisi's conversion.
12′: 10-12
With the Azzurri now leading, the phenomenal playmaking from Keenan and his frenetic footwork saw the Full-Back slip through the shackles of Les Bleus defenders to bring Ireland 7-10 up following Byrne's conversion in the 13′.
19′: 10-19
The Azzurri again responded with a penalty to close the gap at 10-12 in the 18′, but Ireland's Aki was soon back in full force to keep their distance.
Following on from a sensational pass from Lowe to Aki, the Ireland Centre made a break for the left-hand corner to propel the Shamrocks 9 points ahead with a score of 10-19 following a conversion from Byrne.
35′: 10-24
Ireland's Winger Mack Hansen continued to drive the score home with his side ploughing down Les Bleus' defence at the 5 metres line, Craig Casey seeking his opportunity to set up a missed pass into the arms of Stuart Mccloskey who beautifully set up the Winger to score.
'40: 17-24
With Ireland dominating the lead and with half-time on the horizon, Azzurri's Pierre Bruno was the next player to put one past the unsuspecting Shamrocks.
Delivering an outstanding interception of Ireland's ball seconds before half-time, Bruno made a break from 65 metres and bolted to the Try line, outpacing Van Der Flier in the process, securing a nail-biting 17-24 score following Garbisi's second conversion.
55′: 20-24
A momentous feat for the Azzurri that would later be followed in the second half with another penalty from Garbisi in the 55′ to close the gap against Ireland.
With Italy's sights set on breaking a spout of bad luck having lost nine times in a row against Ireland, Aki's denied Try in the 57′ was a welcome sigh of relief for the Azzurri side.
70′: 20-32
With a vision to arise victorious, Ireland's Mack Hansen was next to score a Try on the shoulder of Connor Murray, with a conversion later followed by Byrne that would conclude the game's end, resulting in a 20-32 victory to Ireland.
But while Italy suffered a loss, a newfound respect for the Azzurri permeated the stands as their playmaking at this year's Championship went leaps and bounds beyond last year's efforts that saw a substantial 57-6 loss against Ireland in the 2022 fixture.
Since the welcomed return of Wales' ex-Head-Coach Warran Gatland, it's safe to say the Dragons were determined to secure their first win against England under the management of their new coach last weekend.
However, whilst Wales showed excellent playmaking at certain points in the match, in particular within the second half, it wasn't enough to prevent the onslaught from Borthwick's best…
10′: 0-3
Commanding the first 10 minutes of the match, England maintained exceptional control and possession of the ball against their rivals, however a moment of opportunity came from Wales' Taulupe Faletau.
Hunting down Jack van Poortvlet's drop-kicked clearance, Faletau charged down the ball, but was beaten by England's Freddie Steward within reach of the try line.
Minutes later, England sought to take the lead as Farrell followed through with an exceptional 45-meter penalty that came from Wales after not rolling away- a mistake that saw England secure a 3-point lead in the first 10 minutes of the match.
18': 0-8
With a newfound spring in their step, England's attacking formation was later executed seamlessly, as cracks in Wales' defence started to show.
Full-Back Anthony Watson was waiting on the wing as the Roses quickly moved the ball through their hands following an England Scrum 10 metres into Wales' half.
It was Captain Farrell who sparked the beginning of their onslaught. Wales' Scrum-Half Van Poortvliet failed a pass to Tomos Williams that ended up in the hands of Fly-Half Farrell.
With Malins flying to Farrell's aid on the inside shoulder, a perfectly executed pass enabled an opportune moment for the Winger to bolt away in the midfield.
Now embarking on his opportunity to pass to Lawrence, Wales' Mason Grady sought to stop the centre in his tracks, however England weren't letting up and quickly regained possession.
A series of passes immediately followed, and a miss pass from Alex Dombrandt saw Watson touch down a try for his team- his first England start in almost two years.
Some of the finest playmaking from England at this year's Six Nations!
21′: 3-8
With just under 60 minutes left, England continued to exhibit an impenetrable line of defence, however it wasn't until the 21′ did we see Wales get placed on the board.
It was none other than Wales' Halfpenny who secured 3 points for the team.
40′: 8-10
Whether a stroke of luck or a newfound confidence in feeling they could win against England, the Dragons soon relit their dwindling fire with the flawless interception of England's ball from Louis Rees Zammit.
Regarded as one of the fastest players to grace the pitch at this year's six nations, Reese Lightning's athleticism was one England couldn't quite match (or catch).
Having undergone recent injury complications following an ankle injury he suffered at Christmas, Zammit was a welcome reminder of Wales' dedication to the sport, securing a 9th Try from Zammit since his injury complications.
As if that wasn't enough to drive the dragon home, Halfpenny's conversion of the ball put Wales back on the map at half-time, resulting in an exceptional 8-10 lead to Wales.
44′: 15-10
Coming back in full force after the break, it was a battle of the giants as England crossed the 5-meter line inside Wales' half.
Despite a strong line of defence from Wales, Sinckler landed the ball over the try line after bulldozing the dragons in a contest for the ball that saw England again placed in the lead.
Farrell converted soon after, now boasting a 5 point lead against their rivals.
74′
The struggle for Wales to enter England's half ensued for the majority of the second half, but whilst successful in their attempts to apply pressure inside the Wales 22, England struggled to extend their lead.
With Farrell missing a second penalty and Ludlam missing a pivotal turnover just meters from the try line, it was none other than Henry Slade's astounding pass to Ollie Lawrence following a break in Wales' defence at the try line that concluded the score.
A brilliant display of Borthwick's best and a result that ended in a 10-20 win to the Red Roses.
France secured an electrifying win against Scotland on the weekend. Despite having broken their consecutive winning streak of 14 games for the first time in 18 months against Ireland in Round 2, it didn't take long for France to get back on form.
5′: 7-0
Just 4 minutes into the match, France's Fly-Half Romain Ntamack was ready to repeat history with his astonishing try, to cross the try line similarly as he did on his first Test start against the Scots in 2019.
A touchdown soon followed with a conversion by Ramos in the 5th, resulting in a 7 point lead for France.
A strong start for Les Bleus!
6′ Gilchrist Sees Red
With France dominating the first 5′, Scotland would soon see themselves at an even greater disadvantage as Grant Gilchrist's dangerous tackle to Anthony Jelonch saw the Lock receive a red card.
7′: 12-0
Now one man down and 7 points behind, it wasn't long until Scotland faced their third tribulation.
Whoever said 'bad things come in threes' might be onto something…
Following on from a magnificent long pass from Dupont, the white jerseys showed no signs of stopping as Ntamack received the wide ball to set up Dumortier's second try within just 8 minutes.
Just look at how Dupont executes his bullet pass and earns the 'Play of the Week':
10′ Haouas Red Carded
With 10 minutes on the clock, it wasn't long until France saw their luck begin to change.
Mohamed Haouas's direct head contact with Ben White saw the Prop make history as the first-ever player to be sent off twice in the Six Nations Championship, the first time for punching Jamie Ritchie in the 2020 fixture.
The sides were again level, standing at 14 vs 14.
18′ 19-0
Now desperate to get onto the scoreboard, Scotland were ready to break into France's half with what initially appeared to be a flawless attacking formation.
However, as the Six Nations Championship teaches us, nothing is set in stone…
France's Full-Back Thomas Ramos poached the ball away from Russell with his stunning interception and made a break to clear the ball over the try line.
Now 17 points ahead, it wasn't long before Ramos signed off with a conversion to add a further 2 points onto their score.
Exceptional spatial awareness from Ramos and a sensational sweep from the unsuspecting Scots!
25′: 19-7
After a frustrating first quarter, Scotland soon bounced back as they edged toward the 5 metres line.
A succession of seamless passes from White to Russell and then a flat pass to Huw Jones soon saw Scotland get onto the board.
In true Russell fashion, a conversion followed moments later to close the gap against France and bring the score to 19-7.
35′: 22-7
Ramos was soon back to clinch a penalty for his side following on from Matt Fagerson being off his feet at a ruck, which gave France the edge with an additional 3 points to conclude the half-time score at 22-7.
48′: 22-12
Standing at a considerable disadvantage, Scotland needed to be the first to score after half-time if they were to have any chance in closing the gap against Les Bleus.
Making their way toward the 5-metre line, Jones secured a further 3 points for his side despite Dupont's efforts to stop the onslaught, and in true Russell fashion, a second conversion was made for his side.
'57: 25-14
France were back again in the 57′ with an additional penalty from Ramos following on from Scotland going off their feet at a breakdown, earning an additional 3 points for their side.
67′: 25-21
Just 10 minutes later, Scotland again replied using the scrum to their advantage. A penalty was given, and Price set up Russell for a remarkable try.
A third conversion from Russell in the 68′ brought the scores to a nail-biting 25-21, a score that left Les Bleus quaking in their boots.
79': 32-21
Determined to not lose for a second time at this year's Six Nations, Fickou clinched it for France by making a break for the Try line as the Scots' defences began to weaken and crack.
Ramos followed again for a third conversion to conclude the scores at 32-21 for full-time.
Round 3 Summary
What a fantastic third round to take place at the Principality Stadium. Congratulations are in order for Ireland, England and France as they emerge victors of Round 3.
With Round 4 set to commence on the 11th of March, we can't wait to see how the teams fare as they take to Twickenham.
For now, that's it from us here at The Full 80. Let us know in the comments your opinion on the round. Perhaps you've got predictions on who will emerge victorious in Round 4? We'd love to hear from you!
In the meantime, why not check out our predictions for the outcome at this year's championships here.
Fancy winning 2x tickets to England vs France at Twickenham Stadium + a Signed Shirt by the England Squad? Enter now below.
Winners will be contacted via email on 06/03/23.