Skip to:
#3. The Difference Between Rugby & Football Boots
#4.The Similarities Between Rugby & Football Boots
Firstly, to understand the difference between Rugby Boots and Football Boots, we need to understand what makes a football boot, well… a football boot!
#1. What are Football Boots?
Originating in the 1800s, Football Boots were characteristically heavy and hard-wearing and often equipped with steel toe caps, long laces, metal studs and rigid ankle supports.
Fast forward to 2023, and football boots have come a long way since.
Now sporting more sophisticated boot technology and striking colourways, such as the Phantom GX below, the football boot has been modified countless times to accommodate various surfaces such as Firm and Soft-Ground surfaces that the game is played on.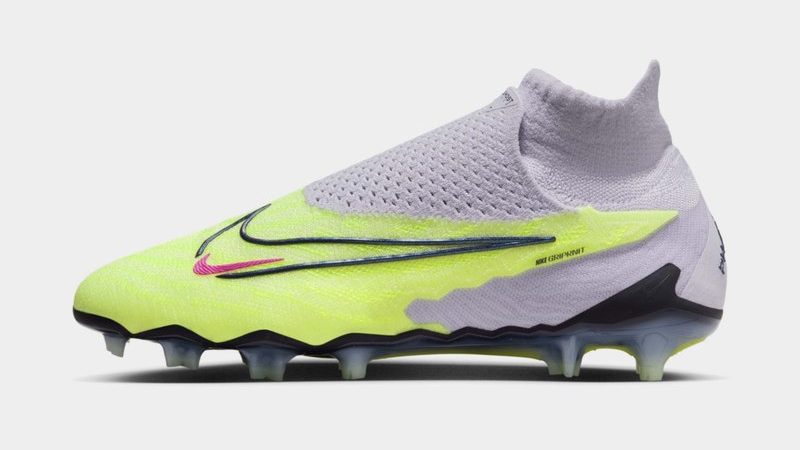 When searching for the ideal pair of boots, players nowadays can choose between a wide variety of designs, soleplates, stud types, and boot materials.
Where traditional football boots would often be made of leather, modern innovation now prioritises a player's attributes and comfort over rugged durability.
Next up, Rugby Boots.
#2. What are Rugby Boots?
Similarly to their Football Boot counterparts, Rugby Boots also originated in the 1800s. However, it was introduced to players with a high-cut profile that sits above the ankle to provide additional support.
Rugby is notorious for being a high-octane sport that is more physically demanding than football, where players require high-cut boots to reduce ankle strain.
To the modern-day consumer, the Rugby Boot is, like the football boot, available in various shapes, sizes, stud configurations and colourways, with exceptional durability that will see players through to the full 80.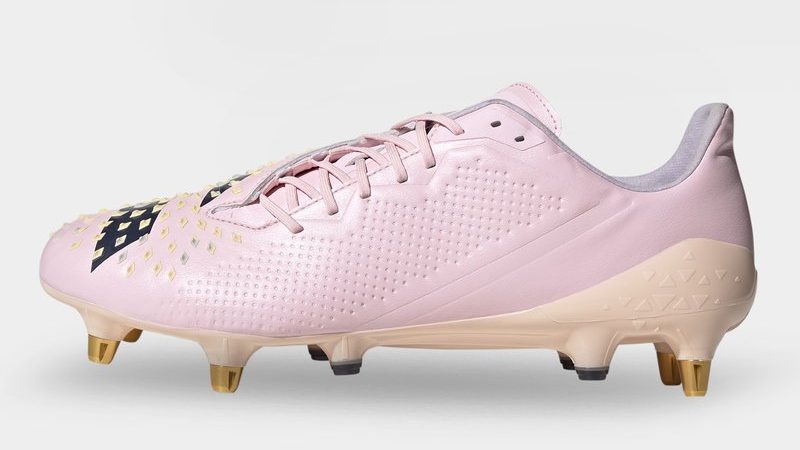 Traditionally made of leather, modern rugby boots share one thing in common-unparalleled durability.
#3. What are the Differences Between Rugby and Football Boots?
You're probably wondering, if football boots and rugby boots both originated around the same time and used the same materials, what makes the modern boot different?
Characteristically wider than football boots, Rugby Boots are better tailored to the nature of the game. They provide players with better traction thanks to their enlarged surface area in the mid and forefoot.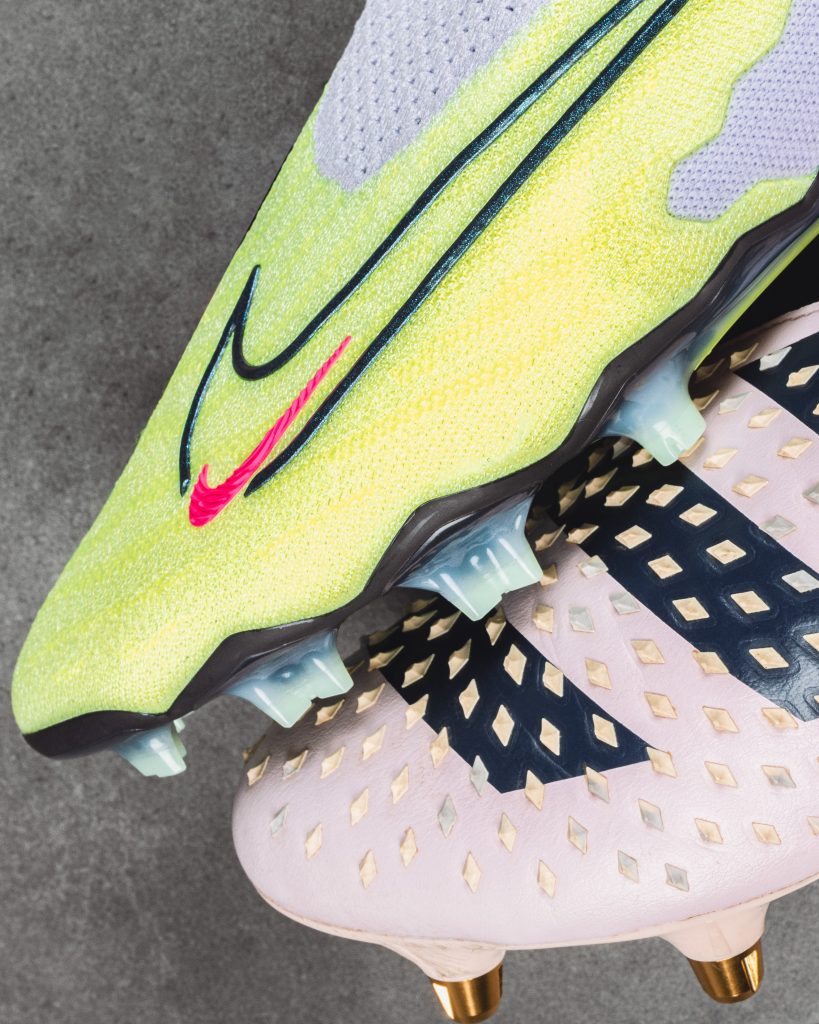 As Rugby also requires you to kick the ball less frequently than in football, the Rugby Boot is engineered towards promoting better momentum on the pitch rather than pinpoint precision.
Football Boots however tend to be narrower in design as the game requires you to be light and nimble on your feet, to make intricate footwork a breeze.
A modern classic, the adidas Kakari Z.1 was built for the wide-footed rugby player looking to take their game to the next level.
Featuring eight metal studs in a 6×2 formation, the Kakari Z.1 provides the perfect fit for Forwards looking to gain traction and deliver power on the pitch. With unique stitching spanning across the toe box, the boot can stretch to accommodate wide-footed players for a durable and comfortable fit.
Couple this with the raised heel and get extra support when you need it most!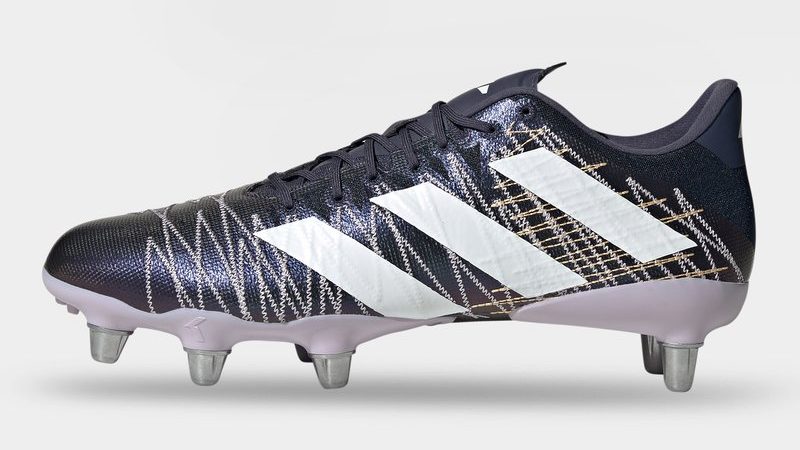 The second most distinguishable feature to tell Rugby Boots and Football Boots apart…The Boot Cut.
Let's cut to the chase. Football Boots tend to be cut low around the ankle, whereas Rugby Boots offer a variety of options depending on which position you play on the pitch.
For Forwards, High-Cut rugby boots are the ideal pairing for players looking to generate more power in a scrum, ruck or maul, whilst providing exceptional comfort thanks to their high-cut configuration.
Low-Cut Rugby Boots, on the other hand, are better suited to players positioned in the backs as speed, control and kicking power take greater precedence over muscularity.
The Canterbury Stampede Pro is a key example of a Rugby Boot with a classic High-Cut construction more suited to Forwards.
Delivering exceptional stability, the wide-fitting Stampede Pro sports 8 x 13mm studs with an additional three conical studs to help players dig deep into the pitch for enhanced traction and performance.
Tough polyurethane leather also delivers exceptional durability.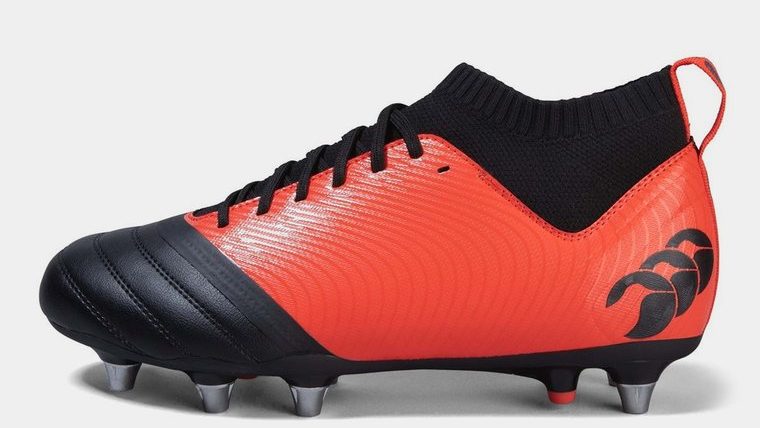 For Specialist Rugby Boots, the Heel is typically raised higher than in football boots. The reason? A raised heel lip provides the wearer with an added area to apply pressure on a scrum, ruck or maul.
Thanks to its elevated form factor, the heel reduces pain in the lower limbs, helping players perform at their full potential for longer.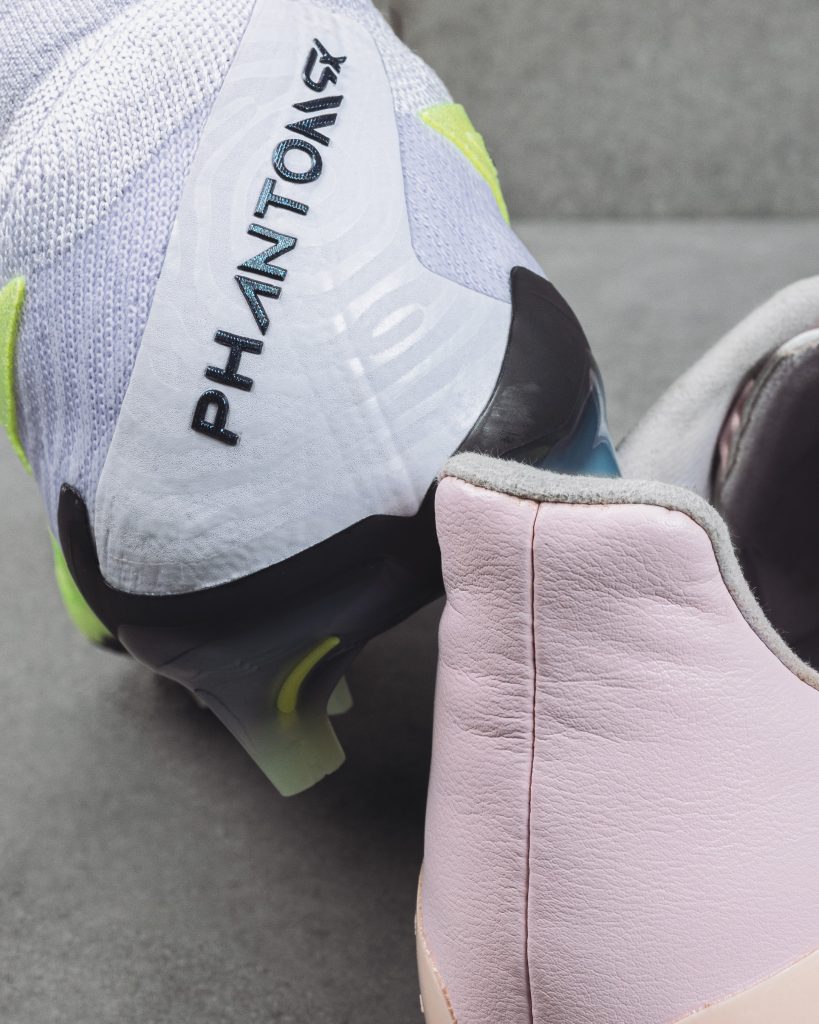 As an excellent example of an industry-leading boot that incorporates a raised heel into its design, the adidas Predator Malice is the boot of choice for the more professional player who often finds themselves at the centre of a ruck, maul or scrum.
Not only this, but the raised heel provides dynamic foot positioning for improved acceleration and keeps you stable when it matters most.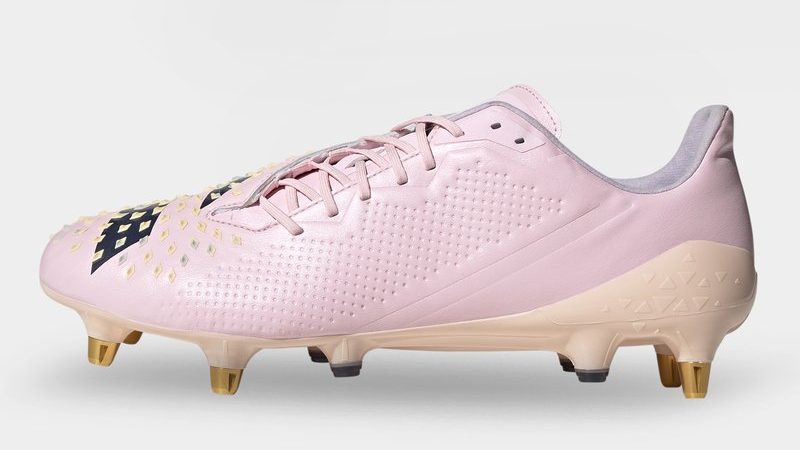 #4. What are the similarities between Rugby and Football Boots?
Although football boots and rugby boots will have their differences, you might be surprised to learn that they have many similarities too!
Ever looked at a Rugby Boot and Football Boot side by side and thought they were made from similar materials? You thought right!
Commonly derived from synthetic material such as Polyurethane, sturdy calf Leather or sometimes a mix of the two for a more refined look and feel, football boots and rugby boots share more in common than some care to realise.
The one slight difference is that Kangaroo leather is more often used in rugby due to its durability and flexibility. However, recent concerns over the sale of K-Leather have caused boot manufacturers to look elsewhere.
The latest Nike Mercurial Vapor from the 25th Anniversary Pack is a prime example of a boot that represents the modern-day genetic makeup of the majority of boots on the market.
Formed of synthetic materials, the Vapor combines chevron mesh with an elasticated material known as 'FlyKnit' to promote a flexible and lightweight form factor that is highly popular among Rugby and Football players alike.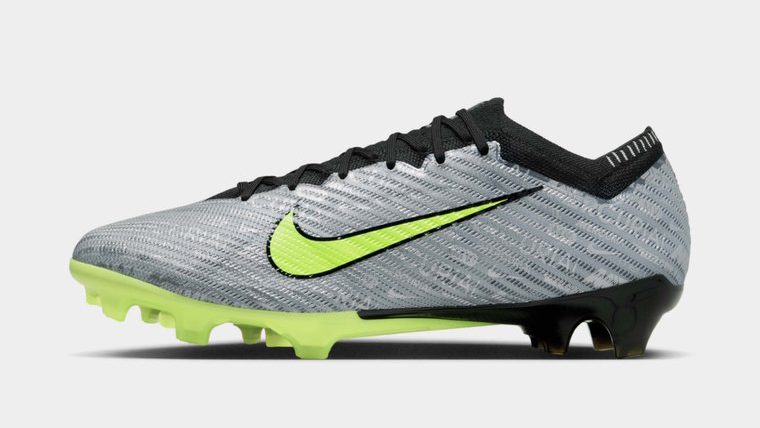 Where stud sizes can vary between Rugby and Football dependent on a player's position, there are a variety of soleplates used across both sports that cater for different ground surfaces.
In both Rugby and Football, you will find Firm Ground (FG), Soft Ground (SG), Multi-Ground (MG) and Artificial Grass (AG) soleplate options.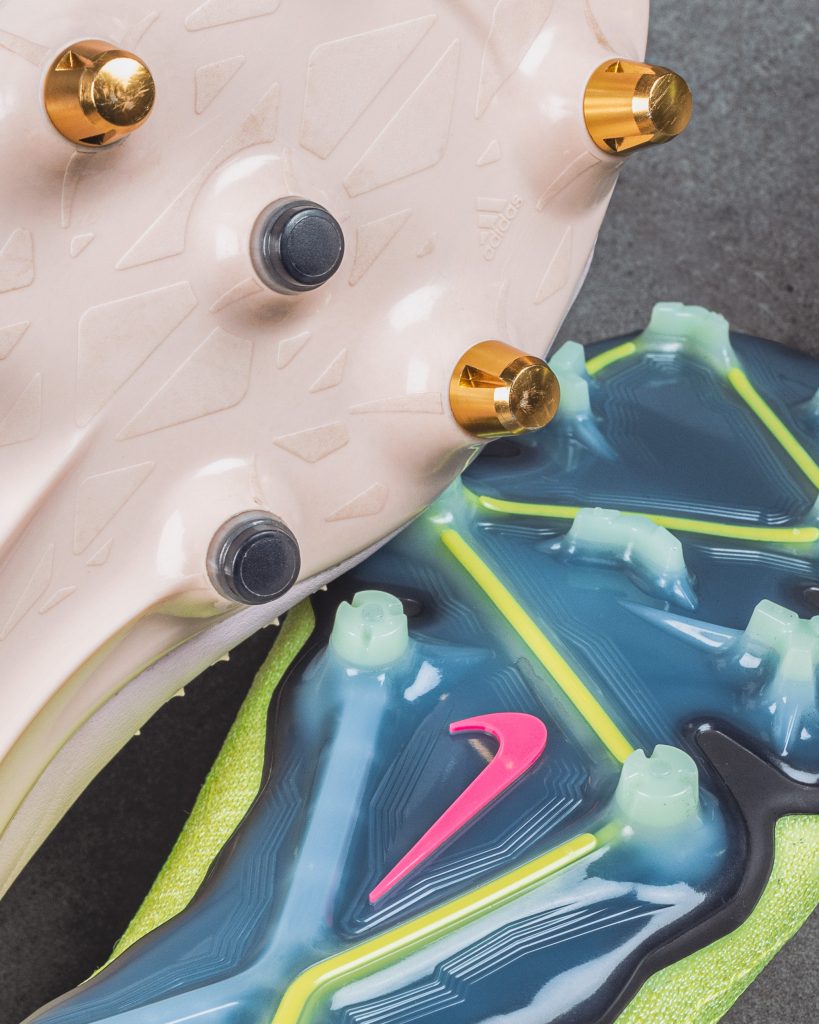 But whilst this is helpful to know, you're probably wondering: "What's the difference?"
To break it down, FG boots are engineered for use on dry, natural grass pitches, SG for damp/muddier pitches, AG for 3G/4G ground surfaces and Multi-Ground for use across both artificial and natural grass pitches.
A popular boot of choice for Rugby and Football players alike, the Puma Future Ultimate is available in both Soft and Firm Ground configurations. With Puma's signature PWRTAPE and dedicated Speed Cage for enhanced lockdown and flexibility, it's no wonder the Future Ultimate is Puma's most successful silo.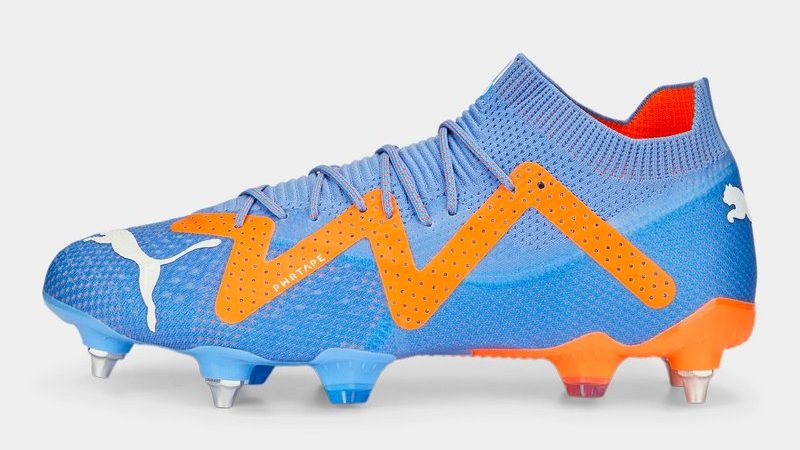 Despite subtle differences in the shape of studs available across both Rugby and Football Boots, the two boot types have more in common than you might think.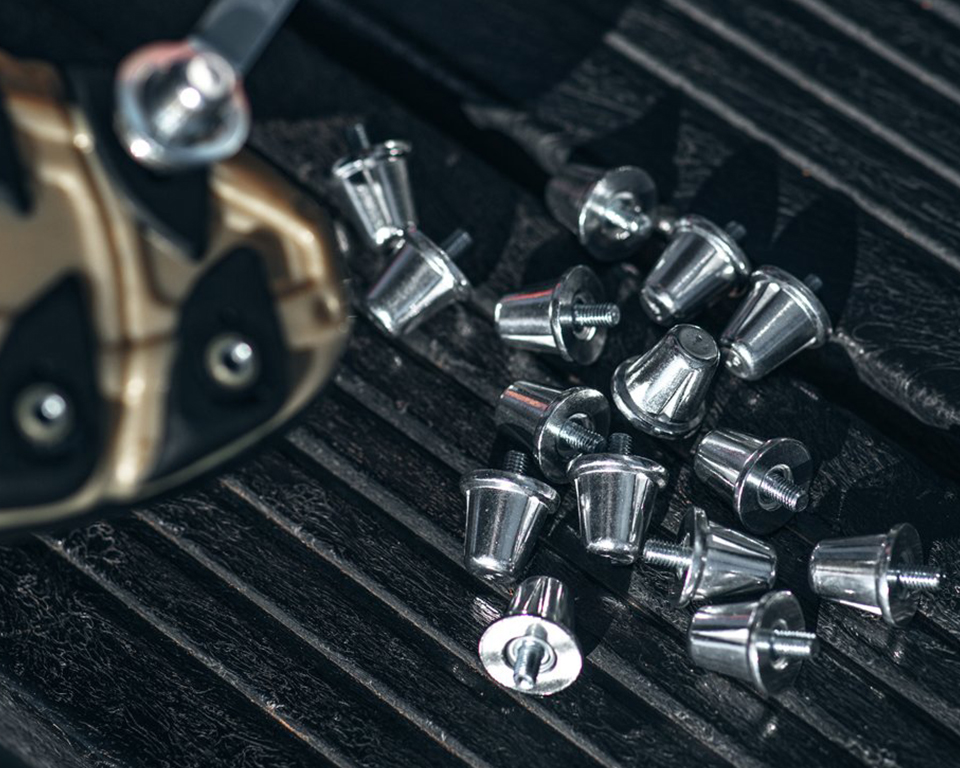 As the laws of the game instruct players to wear studs that do not exceed 21mm in length, they share features in common and are made of metal, plastic or rubber.
With modern boots now breaking from tradition, football and rugby boots often house more than 10 studs, which feature a mix of Metal, Plastic and Rubber.
The Mizuno Morelia Neo 3 is a prime example of how boots have changed over time. Housing 12 studs, 6 metal and 6 plastic, the Morelia can dig deep into soft-ground surfaces for optimal traction, whether in the scrum, ruck, maul or accelerating towards the opponent's Try Line.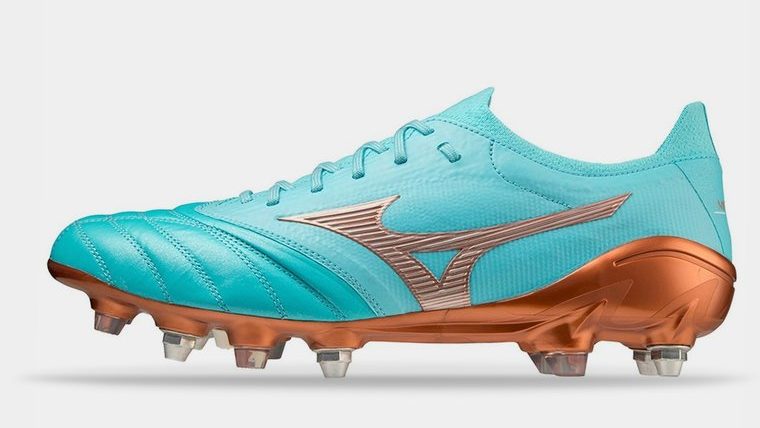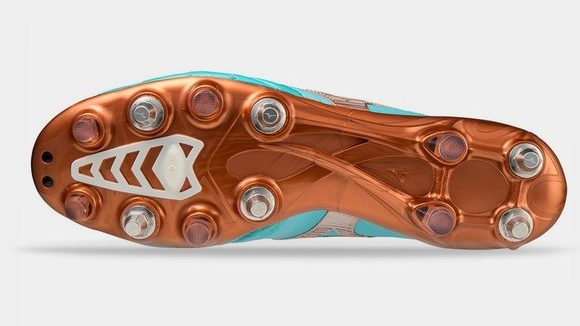 Can I Wear Football Boots for Rugby?
As stated by the game laws, you can wear football boots for Rugby matches, as long as the boot features the correct studs.
If you dabble in both sports and play with screw-in studs, you may need to switch studs between each sport dependent on the ref's discretion.
For boots with studs fixed to the soleplate of the boot, you must check with the laws of the game for the level you play at.
While it's legal to wear the same boots across both sports, it doesn't necessarily mean you should.
If you play as a Back or Centre in Rugby, Football Boots are an excellent choice. This is because they offer the most effective balance between speed and agility for quick starts and strong kicks.
However, if you're a Forward, Rugby Boots may be better suited for you, as they offer better protection and stability within scrums, rucks and mauls while delivering power.
Which boots do you use most in rugby? Let us know in the comments, we'd love to hear from you! In the meantime, be sure to stay in the loop with the latest Rugby News, Boot Launches and Guides right here at The Full 80.