Skip To: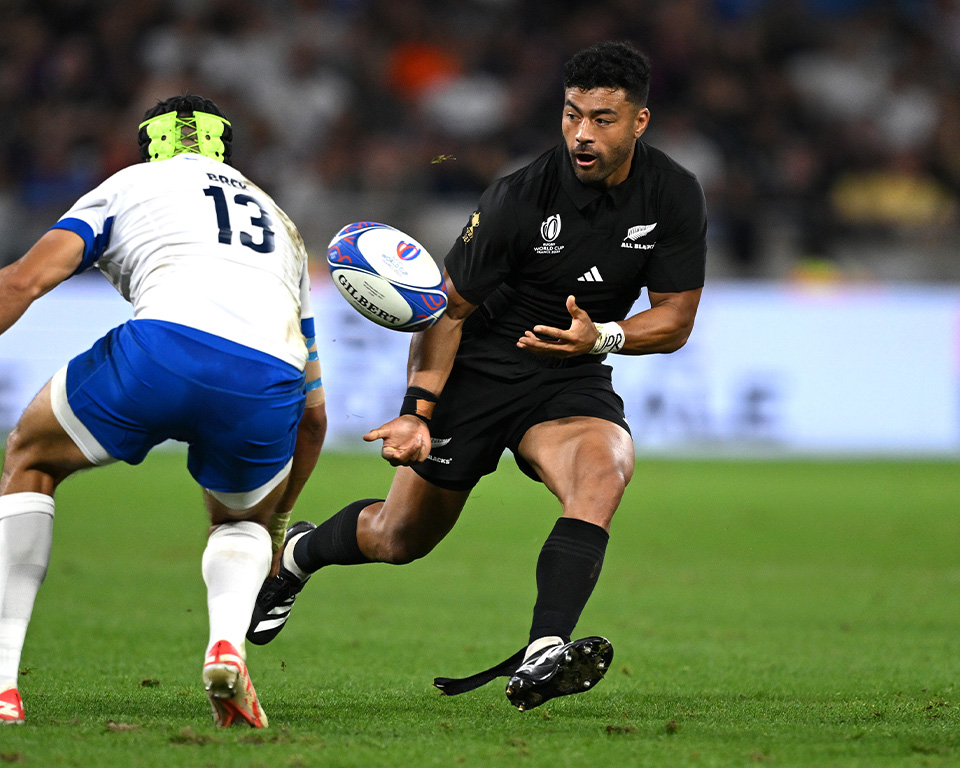 Wednesday, 27th September 2023
#1. Uruguay vs Namibia (36-26)
In a historic match last Wednesday in Lyon, Uruguay secured their first-ever victory against Namibia, finishing with an impressive 10-point lead as the final score settled at 36-26 in Uruguay's favour.
Namibia began the game strongly, taking an 8-point lead with a halftime score of 20-12. However, their fortunes quickly changed due to a lack of discipline, resulting in multiple yellow cards and a red card.
This unfortunate turn of events extended Namibia's winless streak to a devastating total of 26 matches, spanning across six World Cups.
Namibia made a rapid start, with wingers Gerswin Mouton and JC Greyling scoring converted tries, propelling them to a 14-0 lead.
Uruguay, undeterred, swiftly closed the gap to just 5 points (17-12) with Baltazar Amaya's close-range try and hooker German Kessler's exceptional display in the maul.
Namibia responded with a converted penalty, extending their lead to 23-12. However, Uruguay retaliated with equal tenacity, intensifying the pressure.
Following a yellow card given to Prop Johan Coetzee for collapsing a scrum, Amaya scored his second try, narrowing the deficit to just 23-19.
It was a pivotal moment as Uruguay seized the lead for the first time, courtesy of scrum-half Santiago Arata's sensational solo effort, making it 26-23.
Adding insult to injury, Namibia's captain Tjiuee Uanivi and replacement prop Desiderious Sethie both received yellow cards for high tackles, with Sethie's later upgraded to a red card.
With Namibia down to just 13 players, Uruguay capitalised on their numerical advantage. Winger Bautista Basso followed with a converted try, firmly extending their lead to 33-23.
Penalties were exchanged, bringing the scores to 36-26, before Uruguay's Eric Dosantos was sin-binned for a high tackle in the final moments of the game.
With Uruguay set to face New Zealand in their final group match on October 5th, all eyes are on how they will fare against the formidable All Blacks.
Thursday, 28th September 2023
#2. Japan vs Samoa (28-22)
Starting the match, Samoa displayed their determination, with an early penalty by D'Angelo Leuila putting them on the scoreboard.
Japan swiftly responded with a try from Michael Leitch, while Samoa's Jonathan Taumateine was sin-binned for a shoulder barge in the build-up.
Japan's journey to the 2019 World Cup quarter-finals marked a significant milestone. Their progress became evident when they entered the last eight for the first time, initiating the scoring in the 13th minute with Pieter Labuschagne's try, expertly converted by Rikiya Matsuda. This achievement showcased their remarkable growth on the global rugby stage.
Despite Japan's hooker Shota Horie receiving a yellow card for head-on-head contact, Samoa utilized their one-man advantage, scoring through Lam following a driving maul.
Samoa faced additional challenges when Ben Lam was sin-binned for a high tackle. Despite this, Japan extended their lead with a remarkable try from Kazuki Himeno in the corner.
Although Japan's attempt at a bonus-point try was disallowed due to a minor knock-on, they maintained their advantage with a successful long-range penalty from Matsuda.
Samoa mounted a spirited comeback, scoring through Duncan Paia'aua, converted by Leuila, and later with a converted try from Christian Leali'fano, narrowing the gap. However, Japan managed to secure the win, finishing the match with a six-point lead over Samoa.
Friday, 29th September 2023
#3. New Zealand vs Italy (96-17)
In a display of formidable strength and unwavering determination, New Zealand delivered a commanding performance in Lyon last Friday, securing a sensational 96-17 victory over Italy in what marked their 16th encounter with the Azurri.
The All Blacks demonstrated their dominance with an outstanding total of 14 tries, showcasing their exceptional skill and teamwork.
Standout performers included winger Will Jordan, who found the try line twice, and scrum-half Aaron Smith, achieving a remarkable hat-trick.
Other notable contributions came from wing Mark Telea, No 8 Ardie Savea (scoring twice), lock Brodie Retallick, flanker Dalton Papalii, hooker Dane Coles (scoring twice), replacement back Damian McKenzie, and centre Anton Lienert-Brown.
Fly-half Richie Mo'unga's precision in kicking was evident as he secured nine conversions, while McKenzie added to the onslaught with four conversions.
Italy managed to put points on the board through tries by Ange Capuozzo and Monty Ioane, with conversions and penalties courtesy of Tommaso Allan and Paolo Garbisi. Despite the Azurri's relentless efforts, New Zealand's physicality in the forward pack and clinical finishing near the try-line proved insurmountable.
A standout moment occurred when Aaron Smith achieved a first-half hat-trick, while Savea's relentless ball-carrying secured the bonus point with his initial try in the 22nd minute.
New Zealand displayed discipline, avoiding the mistakes that marred their earlier matches, asserting their dominance over Italy, who have surprised the world with their improved playmaking in this year's World Cup.
The scoring action began with Will Jordan's brilliant finish, and Telea left his mark in the first half after an outstanding break from Savea.
Despite Italy's renewed efforts in the second half, including Capuozzo's try, New Zealand's superiority remained evident.
A testament to their legacy, Sam Whitelock, who entered the game in the 50th minute, set a new record as the most-capped All Black of all time, further solidifying New Zealand's astounding rugby history.
Papalii, Coles (who scored twice), McKenzie, and Leinart-Brown all contributed to New Zealand's outstanding performance. Italy showcased their determination in the closing moments, running from their own try-line and scoring through Ioane.
However, New Zealand's dominance prevailed, bringing them closer to the record of 101 points scored against Italy in the 1999 World Cup.
Saturday, 30th September 2023
#4. Argentina vs Chile (59-5)
In a decisive win in Pool D against Chile last Saturday, one player, in particular, stood out from amongst the rest – Nicolas Sanchez. Celebrating his 100th cap, Sanchez showcased exceptional playmaking skills that significantly influenced the course of Saturday's events.
As the leading points scorer for his nation, Sanchez demonstrated remarkable prowess by scoring a try and exhibiting flawless kicking skills. His performance led to five tries and an additional 15 points, solidifying his exceptional contribution to the team's success.
The match commenced at Nantes' La Beaujoire stadium, where Sanchez, already the highest scorer in Argentina's history with 872 points, quickly left his mark.
Seizing an early opportunity with a well-executed dummy move, Sanchez scored a converted try, setting the stage for Argentina's lead.
Adding to their advantage, Argentina secured an additional penalty, and tries from Juan Martin Gonzalez and Agustin Creevy, originating from powerful mauls, further extended their lead.
Despite Rodrigo Isgro receiving a yellow card for a high tackle, Argentina's progress faced a temporary slowdown. However, Chile's offensive attempts were thwarted when Martin Bogado broke through Inaki Ayarza's tackle, resulting in Argentina's fourth try.
Encountering a challenging moment, Augusto Bohme of Chile managed to touch down, but the try was swiftly disallowed due to a forward pass.
Undeterred, Argentina maintained their relentless performance on the field. Isgro added to the scoreline with a try under the posts, and Gonzalez secured his second, pushing the score to 45-0 with a just 12 minutes remaining.
After being put through the ringer, Chile managed to make their way onto the scoreboard with Dussaillant, sparking wild celebrations among their fans.
However, Argentina retaliated with Ignacio Ruiz and Santiago Carreras both scoring, sealing Argentina's victory.
#5. Fiji vs Georgia (17-12)
Last Saturday, Fiji aimed to secure a place in the final eight for the first time in 16 years. However, their aspirations were challenged after Georgia's Luka Matvaka and Niniashvili scored two penalties.
In the second half, Vern Cotter's team made a comeback, scoring tries through Waisea Nayacalevu and Vinaya Habosi, both skillfully converted by Frank Lomani, marking their second victory of the tournament.
Nevertheless, despite the win, Fiji's performance fell short of expectations as they failed to secure a bonus point. This situation left the door slightly open for Australia to progress to the knockout stages.
Fiji managed to make their way onto the scoreboard in the 51st minute by way of Nayacalevu touching down in the corner, with Lomani converting a challenging kick, bringing the score to 9-7 in Fiji's favour.
With the added return of Semi Radradra from the sin bin, the pressure was on for the Georgians.
Now taking the lead for the first time after Lomani's penalty for an offside, the scores came to 10-9 with just 15 minutes left on the clock.
Habsi then broke free from the Georgian defense, Fiji's lead was extended, and Lomani soon added to their tally with a successful conversion that further solidified their advantage.
A setback followed for Fiji however as they ended the match with a man down, following Josua Tuisova being sent to the sin bin for making head contact with Miriani Modebadze.
Soon came hope in the form of a penalty, when Matkava kicked for Goergia, but ultimately they had to settle for a losing bonus point after Niniasvili's kick ahead in the final moments failed to find a teammate.
As the game concluded, the defeated Georgian team displayed looks of dismay as their loss confirmed their exit from the World Cup, with one match against Wales remaining.
Fiji moved to the second position in Pool C with 10 points, trailing behind Wales. They only need a bonus point in their final game against Portugal to advance to the quarter-finals. This outcome would likely set them against England and mark Australia's first-ever pool-stage exit.
#6. Scotland vs Romania (84-0)
In a resounding victory in Lille last Saturday, Scotland not only secured their spot in the upcoming World Cup clash against arch-rivals Ireland but also witnessed a historic performance from Darcy Graham, who reached a significant milestone.
Climbing from sixth place to joint-second with Tony Stanger and Ian Smith on the team's all-time try-scorer list, Graham now stands just three tries away from equaling the retired Stuart Hogg's record of 27 tries.
The Scots asserted their dominance early, scoring six tries in each half to overpower the Romanian side. Graham, in particular, was the star of the night, showcasing his prowess by securing a first-half hat-trick and adding another try in the second half, bringing his tally to 24 tries, surpassing both Duhan van der Merwe and Chris Paterson.
Coach Gregor Townsend's strategic decision to make 13 changes from the previous match against Tonga paid off handsomely. Preserving key players for the crucial Ireland match in Paris, Townsend's choice to field fringe players proved highly successful as Scotland dominated the game from start to finish.
Hamish Watson set the tone for Scotland in the 8th minute, opening the scoring, followed by Ali Price's try in the 17th, courtesy of a brilliant assist from none other than the standout player, Graham.
Just four minutes later, Graham displayed his exceptional skills, finding the try line himself.
As the first half approached its closing minutes, Romania faced further challenges as three players received yellow cards, conceding three more tries.
Graham returned with his second try of the evening, placing him ahead of Van der Merwe and level with Paterson. Players Matt Fagerson, Chris Harris, Ollie Smith, Johnny Matthews, and Rory Darge also added their names to the scoresheet.
Remarkably, Graham completed his hat-trick before halftime, allowing Ben Healy to convert each of the six first-half tries. Scotland entered halftime with a commanding 42-0 lead.
The momentum continued in the second half, with Harris, Smith, Healy, Matthews, and Darge all crossing the try line.
Graham showcased his exceptional form, securing his fourth try of the night and helping Scotland achieve their second-highest World Cup win, falling just five points short of their 89-0 victory against Ivory Coast in 1995.
#7. Australia vs Portugal (34-14)

Despite a lackluster World Cup campaign, Australia scraped through with a bonus-point 34-14 victory against Portugal. However, their performance was far from convincing, raising doubts about their chances of qualifying for the Rugby World Cup quarter-finals.
Had Fiji secured a bonus-point win against Georgia in Bordeux on Sautrday, Australia would have faced an unprecedented elimination from the World Cup at the pool stage.
While Fiji won the game 17-12, their inability to collect five points kept Australia in the competition, albeit with an outside chance of securing a spot in the quarter-finals.
Fiji managed to secure a 17-12 victory in their match, but their failure to secure five points gave Australia a glimmer of hope in the competition, albeit a slim one for the quarter-finals.
Australia started the game with a swift move as Ben Donaldson scored a penalty just four minutes in. However, Portugal responded emphatically, with Pedro Bettencourt crossing over in the corner for their opening try, which was expertly converted by Samuel Marques.
With Bettencourt soon after being sin-binned, Australia were quick to regain the lead as Richie Arnold touched base with a try, followed by a conversion from Donaldson.
Now standing at a numerical advantage after Portugal's loss of their star player, Australia followed with two more tries through Dave Porecki and Angus Bell, both of which were followed by Donaldson.
Portugal appeared to pull a try back with Nicolas Martins, but was disallowed due to Andrew Kellaway's tackle, resulting in a 17 point lead (24-7) for Australia by half time.
Fraser McReight was the next player to put scores on the board just six minutes into the second half, securing the much-needed bonus point for Australia.
However, while the Wallabies emerged victorious, they weren't without their challenges as they were reduced to 13 players, following on from Matt Faessler and Samu Kerevi being sent to the sin-bin within just two minutes of one another.
With a new-found spring in their step, Portugal capitalised on this opportnity, and Rafael Simoes secured a converted try with 10 minutes to go.
Seizing the opportunity, Portugal took advantage of Australia's numerical disadvantage, with Rafael Simoes scoring a converted try ten minutes before the final whistle.
Despite the pressure from an underwhelming campaign, Australia sealed the victory with Marika Koroibete adding their fifth try, ensuring their survival in the tournament.
It's worth noting that Australia, winners of the tournament in 1991 and 1999, have never failed to reach the knockout stages in the nine previous World Cups.
#8. South Africa vs Tonga (49-18)
As the defending champions, South Africa asserted their dominance in a compelling 49-18 victory against Tonga in Marseille, securing a crucial bonus-point win that propelled them to the top of Pool B.
Tonga initially gained ground with an early penalty from William Havili, but South Africa swiftly responded.
Scrum-half Cobus Reinach, displaying agility and precision, exploited a quick penalty, darting over the corner and putting the Springboks on the scoreboard.
The Springboks' dominance continued when a fortunate bounce off Vincent Koch's shoulder found Canan Moodie, who exploited the opportunity and raced under the posts, extending South Africa's lead.
Despite Tonga's determined efforts, their captain, Ben Tameifuna, managed to breach the Springboks' defense, scoring a crucial try and narrowing the margin to 21-8 at halftime. However, South Africa remained unfazed.
The second half saw South Africa's relentless pursuit of victory. Deon Fourie powered over the try line after a well-coordinated driving maul from a lineout, further asserting the Springboks' authority.
Replacement Jesse Kriel then sealed the bonus point for South Africa with another skillful try. Tonga's Fine Inisi responded with a try in the corner, displaying Tonga's resilience amidst the Springboks' onslaught.
South Africa's dominance persisted, with Willie le Roux contributing a try on the left flank, and replacement Marco van Staden capitalizing on a swift and decisive counterattack to add another to the tally.
Coventry fly-half Patrick Pellegrina showcased his speed and determination, chasing down his own kick and scoring under the posts, adding to South Africa's formidable lead.
In the final moments, Kwagga Smith's agility and determination led to South Africa's seventh try of the match.
While South Africa emerged victorious, this match marked a rare occasion since the 2015 World Cup where they conceded three tries in a single game, a testament to Tonga's resilience in the face of the defending champions.
Missed out on Round 3?
We've got you covered! Check out the highlights of Round 3 of the Rugby World Cup now.
In the meantime, let us know in the comments your thoughts and predictions on who you feel will emerge as the Rugby World Cup victors. We'd love to hear from you!