Skip to: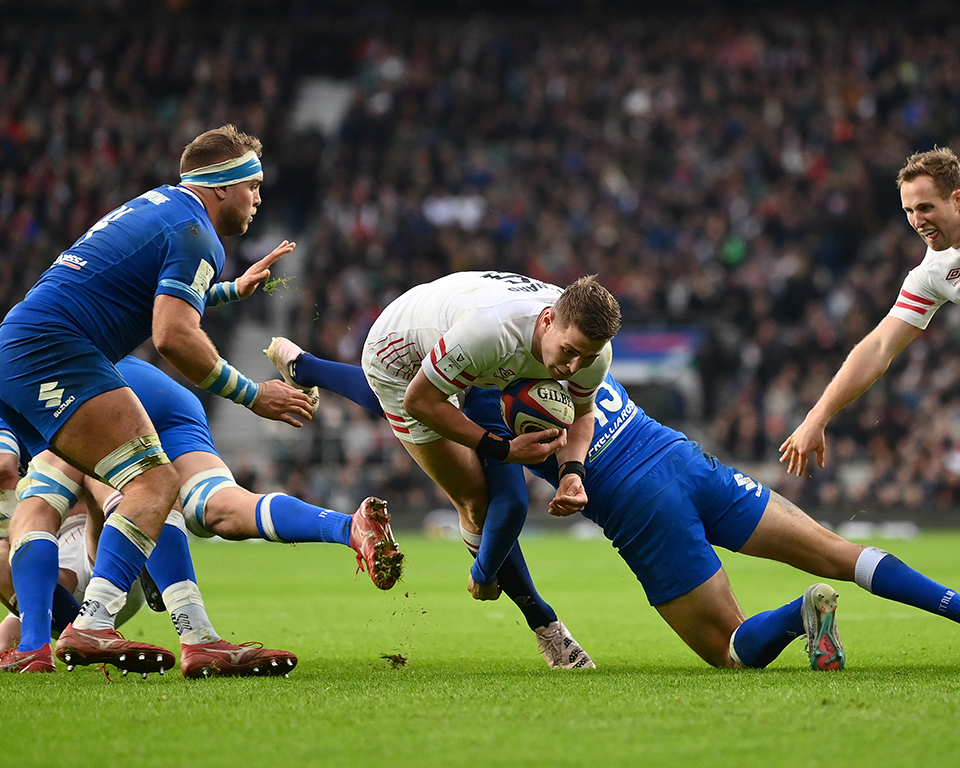 France sought to acquire their 15th consecutive win against Ireland last Saturday (11th Feb), having won against Italy in Round One. However, Ireland dashed the dream of Dupont & co with their outstanding 32-19 lead.
France kicked off to a fantastic start (quite literally) when Ireland's Andrew Porter embarked on securing a turnover, while Taghg Beirne was lying on the ball, which resulted in a penalty for Les Bleus.
Thomas Ramos stepped up, a penalty was scored, and speculation began to circle the stands as to who would emerge victorious.
That was, until the 8th minute of the match…
Fullback Hugo Keenan fought back following an attacking line-out five metres from the try line. France showcased terrific athleticism and strength in holding their maul, however it was Finlay Bealham's inside pass that led to Keenan dashing to the try line.
Just look as he came out of nowhere in the 8th!
Ramos again sought to turn the tables with yet another successful penalty, following on from Peter O'Mahony diving on a loose ball.
The score was now 7-6 to Ireland, but nobody quite anticipated what would be up Les Bleus' sleeve just minutes later.
Following on from a loose pass from James Ryan in the opposition's 22, Ramos brushed the ball to Penaud before offloading to Third Row Anthony Jelonch in a display of sharp wit under the pressure of the approaching Ireland forwards. Receiving the ball in a returned pass, Penaud dashed to the try line to secure a sensational try for his side.
With a conversion soon after from Ramos, France were set to dominate their rivals, leaving them 13-7 up.
But in true Ireland fashion and with the luck of the shamrock on their side, Ireland soon responded.
Winger James Lowe brought it back for his side in the 20′, with Garry Ringrose setting up a wide ball to see Lowe dive into the corner as if his life depended on it.
Sensational!
Ireland soon had the advantage , with the addition of an extra man following on from France's Uini Atonio becoming sin-binned for his high tackle on Rob Herring in the 23.
Andrew Porter made the most of this advantage and rushed over the try line.
Again, France responded, with Ramos securing another try for Les Bleus.
Hansen was next, with his sights set on securing another 3 points for Ireland that looked certain until Dupont held down his side and exhibited bull-like strength in keeping the Winger at bay.
Despite their valiant efforts, all seemed futile when Les Bleus lost possession of the ball following a line-out just one minute later, which led to Sexton securing a penalty as a result of Conor Murray having knocked on in securing yet another try for the shamrocks.
France fought back with a newfound determination, with a close try from Penaud and Dumortier slipping to the left side to deliver a chip kick that was collected by Ireland's Ringrose.
Lowe was next with a 50:22 following a lack of communication from Les Blues' Backs that led to Byrne securing 3 points to bring the teams to 25-16.
France's frustration was becoming apparent.
Ramos again came back to gain a drop goal for his side- the first score for France in the second half with just 20 minutes left on the clock.
Ireland again responded with just 9 minutes on the clock, Doris creating a fantastic offload to Ringrose with Les Bleus hot on his trail.
Too slow for the Irish Centre!
The 80 minutes were up and Ireland dominated with a 32-19 lead.
Scotland made history on the weekend to earn their biggest-ever victory yet over Wales, ending in a landslide 35-7 win for the Scots. A momentous feat that even surpassed their 35-10 win in 1924, breaking the record just in time before the 100th anniversary of the match.
Let's also not forget how Scotland won their opening two Championship matches for the first time since 1996 after defeating England 23-29 in Round 1…
Anyway, on to the game!
It was George Turner's try in the first half of the match which kickstarted the game for the Scots, with a sensational try in the 29th.
Captain Ken Owens soon fought back to showcase the fury of the dragons in the 33' to leave the half-time score up in the air with a 13-7 lead to Scotland- a score that could be turned around with stalwart dedication.
That is, at least what many fans of Wales had hoped for, especially considering the Dragons' 20-17 lead over Scotland last year…
But despite every effort to emerge victorious, not even the return of Wales Head Coach Warren Gatland has been enough to bring the dragons back on form.
As the second half of the match commenced, Francois Steyn obtained two tries for the Scots within just 7 minutes, expertly executed by rugby sensation Finn Russell and his phenomenal passing game.
Just look at how he sets up Steyn:
Blair Kinghorn was next, widening the gap to seal the victory for the Scots with a bonus point with just 9 minutes left on the clock- a feat made possible by Edinburgh's van der Merwe who was awarded the Try of the Round in Round 1.
But while victory was almost certain, Scotland weren't going to let up and made the most of their opportunity to secure a landslide victory with an assist, again from Russell, that saw Matt Fagerson deliver a try.
The 80 minutes were up, and while Scotland secured a remarkable win, credit must be given to Russell and his dedication to set up three of the five tries for his side- a crucial component to the Townsend team.
Scotland even saw themselves walk away with the notorious Doddie Weir Cup – a rugby union trophy named after the late Scotland International Lock, Doddie Weir, who was diagnosed with motor neuron disease in 2016.
A fantastic moment to celebrate the life of the player while also raising awareness for the condition!
Their Second Round, their first victory- the Red Roses ascend above the Azzurri in a dazzling display of dedication.
England secured Steve Borthwick his first win since being appointed head coach for his team, and while their match against Scotland resulted in a disappointing blow in round 1, England was back with the familiar fire and tenacity we'd so sorely missed.
Italy showed prowess, with a vast improvement in their performance compared with last year's Championships that saw the Azzurri receive a brutal 0-33 loss against England.
For the half of the match, England appeared to dominate, with Back Row Jack Willis securing a Try in the 12' as a result of Italy's inability to hold up against an England Maul, which led to Owen Farrell converting to bring England 7-0 up within 14 minutes.
It wasn't long until England went in again for their second in the 27′-Back Row Ollie Chessum securing his first international try following a sensational set-up from Prop Ellis Genge.
Captain Farrell again emerged with a conversion that catapulted the Red Roses into the lead with a score of 14-0 within 30 minutes of the match.
Just 5 minutes later, England had acquired their third try, or at least, that's what they thought…
Winger Max Mallins made a break for it- weaving through the Azzurri's defence to send the ball to Scrum-Half Jack van Poortvliet who ran under the goal- a try denied moments later following an obstruction from Ollie Lawrence to Maneul Zuliani.
A trying shame as Max Mallins' playmaking was set to be sensational:
But in true Six Nations fashion, it wasn't long until England were back.
Despite being denied a try, it was their second chance at a line-out that saw them try to regain what had been lost, dragging Italy across the line, it was Jamie George who stepped up to cement the third try for the team.
Half-time was up and England dominated the scene in the first half to bring the score to 19-0 to England.
However, it wasn't long after the break in the 43′ did we see the Azzurri fight back- Prop Riccioni securing their first try to bring the scores to 19-5.
A second attempt to close the gap came from Alessandro Fusco as he squeezed through Mako Vunipola and Dan Cole following Tomasso Menoncello's breakout.
With just 12 points being all that stood between the Roses and the Azzurri, England came back again with another sensational try set up by Mitchell and executed by Arundell to bounce back from their defeat against Scotland in Round 1.
The Red Roses have returned, at last!
With the Six Nations set to commence for a third round this coming weekend, we can't wait to see as the nations battle it out to become victorious.
£250 Competition Giveaway!
Let us know in the comments your predictions for Round 3 of the Six Nations Championship to be in with a chance to win a £250 voucher to spend at Lovell-rugby.co.uk. We will be selecting the winner in the coming weeks, so be sure to stay posted at The Full 80.
Competition closes Friday 24/02/23 – 23.59.
In the meantime why not check out our predictions for the Six Nations Championship.