Skip to:
#1. Argentina vs New Zealand (6-44)
#2. England vs South Africa (15-16)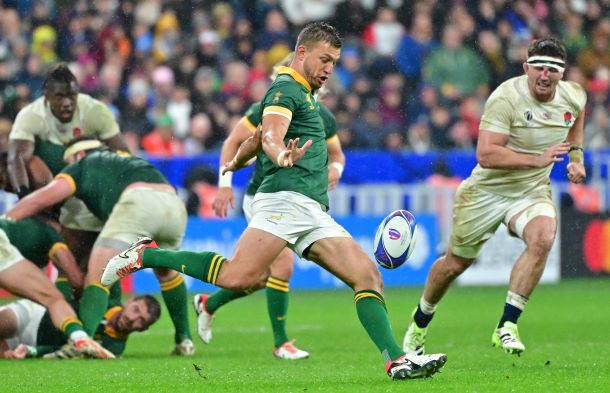 Friday, 20th October 2023
Argentina vs New Zealand (6-44)
Fans from across the globe found themselves teetering on the edge of their seats last Friday, their collective hopes and fears suspended in the tense air as Argentina stepped onto the field for their historic 37th clash against the mighty All Blacks.
For the passionate supporters of Los Pumas, the memory of their remarkable away victory against New Zealand in 2022 served as both inspiration and fuel, nurturing their dreams of witnessing yet another miraculous feat on the grand stage of the Rugby World Cup.
With fingers crossed and hearts pounding, they yearned for that spark of World Cup magic to ignite their team's performance.
However, in a tournament defined by unlikely upsets and unexpected twists, this particular game stood as a stark exception to the rule, leaving fans in suspense and anticipation, wondering if the underdogs could once again rewrite the narrative.
As it happened
The game began with a determined effort from Los Pumas, who showcased their resilience by controlling possession within the All Blacks' 22. Their efforts were rewarded with three points from Boffelli's precise boot.
However, New Zealand swiftly countered, with Will Jordan breaking through Argentina's defense and scoring the opening try.
Jordie Barrett followed suit with a sensational try, expertly maneuvering past the opposition's defense and touching down in the corner.
Despite Boffelli's attempts to narrow the gap with penalties, Mo'unga extended New Zealand's lead with a successful kick after a breakdown penalty against Argentina.
As halftime loomed, Shannon Frizell capitalised on a fortuitous opportunity, scoring in the corner following a relentless multi-phase attack.
Although Mo'unga missed the conversion, the scoreboard read 20-6 in favour of the All Blacks at halftime.
The second half saw the All Blacks continuing their onslaught. Aaron Smith showcased his exceptional skills, breaking through Argentina's defense for a brilliant solo try.
Frizell added his second try after an impressive 18-phase attack, and Will Jordan furthered the onslaught with his second score in the corner.
Despite New Zealand's lock Scott Barrett being temporarily sidelined, it was Jordan who had the last word, completing his hat-trick with a breathtaking run down the pitch.
With this awe-inspiring performance, Will Jordan and the All Blacks sealed their place in rugby glory, earning their ticket to the Rugby World Cup final for the fifth time, leaving fans in awe of their unparalleled skill and determination.
Saturday, 21 October 2023
England vs South Africa (15-16)
In a pulsating showdown at the Stade de France, England's rugby warriors came achingly close to a monumental upset, only to be thwarted by the relentless might of South Africa.
The match unfolded in a nerve-wracking fashion, with England falling short by the slimmest of margins, just one point away from securing their place in the final.
As it happened:
In what can only be described as a symphony of varying strategies, England's early dominance came by way of Owen Farrell's boot as he converted four penalties to lead his team 12-6 by halftime.
The England side, having not faced South Africa since the 2019 World Cup final (which they lost considerably, 12-32), seemed on the cusp of a seismic shock as they were on the verge of eliminating the reigning champions from the tournament to face the All Blacks in the final.
However, the Springboks, known for their resilience and ability to adapt, made crucial changes in their lineup after the break. They were determined not to go down without a fight, and they proved it in dramatic fashion.
Despite Farrell extending England's lead with a drop-goal, a try from a driving line-out maul by RG Snyman brought the Springbok's side within touching distance, trailing 15-13, with the match hanging in the balance.
In a decisive moment, the Boks' formidable scrum power shifted the game's momentum.
Handre Pollard's match-winning penalty in the 77th minute dashed England's hopes of a historic upset, reminiscent of the sensational 1999 France vs New Zealand semi-final that shook the rugby world.
The Springboks, true to their reputation, had held their nerve when it mattered most.
Heartbroken as a result of the outcome, England's players fell to their knees as the final whistle blew, dealing a final devastating blow to a match that had left England tantalizingly close to rewriting the history books.
Steve Borthwick, England's head coach, reflected on the closely contested match and commended both teams in an interview with ITV:
"Firstly immense credit to South Africa; they are current champions for a reason. I thought our players were magnificent. As I stand here and reflect, I'm very proud, and so should everyone else be. It's too early to analyze the game right now, and we'll reflect and recover as we prepare to play Argentina on Friday night. We wanted to play in the final, but we're not, so we have to focus on the next game.

This is a very good group of players, seven of the match squad are 25 or under, and they'll be in an England shirt for a long time to come."
Now, the stage is set for a historic final between South Africa and New Zealand, both teams vying for a record fourth title.
Missed out on the Quarter-Finals?
We've got you covered! Check out the Highlights of the Rugby World Cup Quarter Final now.
In the meantime, let us know in the comments your thoughts and predictions on who you feel will emerge as the Rugby World Cup victors. We'd love to hear from you!