Skip To:
#1. Wales vs Argentina (17-29)
#2. Ireland vs New Zealand (24-28)
#4. France vs South Africa (28-29)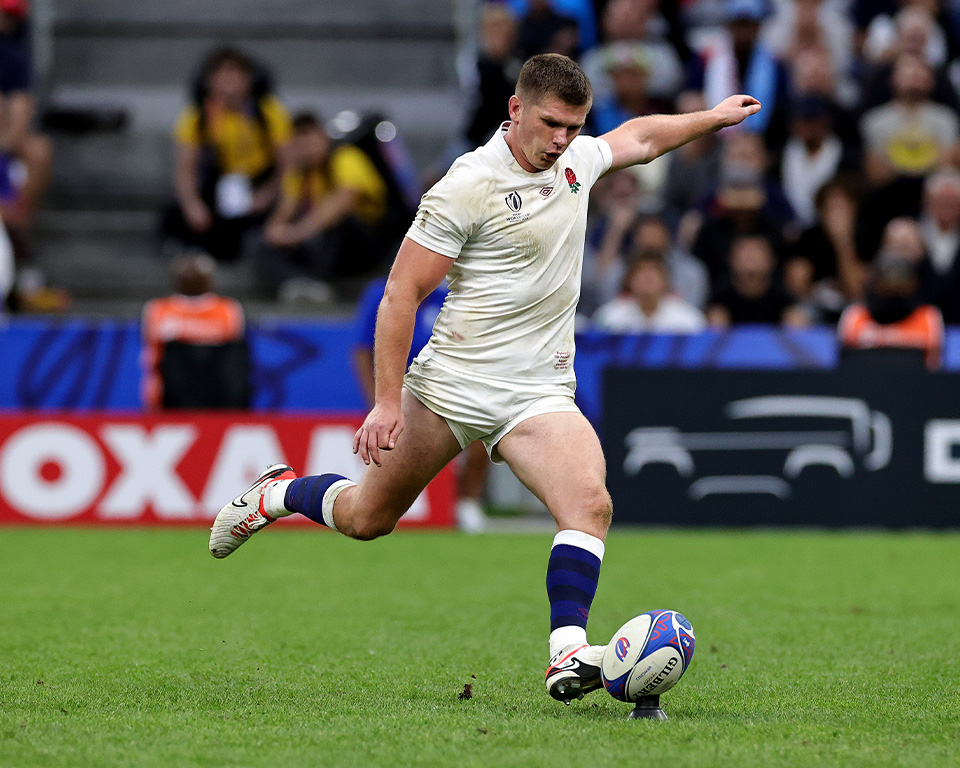 Saturday, 14th October 2023
Wales vs Argentina (17-29)
In a nail-biting showdown at the revered Stade Velodrome in Marseille, Argentina showcased a masterclass in tenacity and skill, shattering Welsh dreams with their spectacular 29-17 victory.
The intensity of the match kept fans teetering on the edge of their seats as Argentina staged a comeback that will be remembered in rugby history.
The pivotal moment unfolded in the 68th minute when Joel Sclavi, undeterred by immense pressure, executed a flawless try, sending shockwaves through the stadium and leaving spectators in awe.
The tension reached its peak moments later when Nicolas Sanchez intercepted a crucial pass, solidifying Argentina's triumph and securing their coveted spot in the semifinals.
The stadium reverberated with the roars of jubilant Argentine fans, marking this victory as a monumental achievement in their rugby journey.
As it happened:
Wales surged ahead in the early stages, establishing a commanding 10-0 lead within the initial 22 minutes of the match.
Dan Biggar, in a display of his remarkable skills in what would be his final Test appearance, orchestrated the Welsh offense with precision, showcasing his mastery through impeccable maneuvers and accurate passes.
Biggar's synergy with George North and Gareth Davies created moments of sheer brilliance, particularly evident in the 14th minute when their seamless collaboration resulted in a try, expertly converted by Biggar.
His adept kicking, taking advantage of Argentina's penalties, appeared to solidify Wales' grip on the game.
Wales' sturdy defense initially thwarted Argentina's advances, laying the groundwork for their advantageous position.
However, Argentina's unwavering determination gradually shifted the momentum in their favour. Emiliano Boffelli's precise penalty kicks narrowed the deficit, injecting renewed vigor into the South American side.
The turning point materialised when replacement scrum-half Tomos Williams executed a lightning-fast sprint beneath the posts, swinging the momentum back in Wales' favour.
Yet, controversy marred their lead when a contentious decision favoured Argentina, enabling Sclavi to score a pivotal try that propelled them ahead 19-17.
Despite the setback, Wales refused to concede defeat and launched a desperate offensive, coming agonisingly close to regaining the lead.
Rio Dyer's setup for Louis Rees-Zammit appeared destined for glory, only to be thwarted by Matias Moroni's impeccable tackle, dashing Welsh hopes in the final moments of the match.
With the game hanging in the balance, Sanchez seized a crucial opportunity by intercepting Sam Costelow's pass in the 77th minute. His lightning-quick dash to the try line ignited exuberant celebrations among the passionate Argentine fans, sealing their remarkable victory.
This heartbreaking defeat not only signifies the end of an era for Wales, bidding farewell to legends like Biggar, Alun Wyn Jones, and Justin Tipuric, but also marks the ascent of a resilient Argentine team.
What's next?
Argentina's journey continues as they prepare to face New Zealand in the semifinals, promising yet another enthralling chapter in the annals of Rugby World Cup history. Rugby enthusiasts worldwide eagerly anticipate the next exhilarating clash on this grand stage.
Ireland vs New Zealand (24-28)
In a thrilling Parisian showdown that will be etched into rugby history, New Zealand shattered Ireland's World Cup dreams for the second consecutive tournament, leaving the Irish side devastated.
Ireland, formerly the world's top-ranked team, entered the match with high hopes of breaking their quarter-final curse, only to be thwarted by the relentless All Blacks in a pulsating encounter.
The defeat marked the end of Ireland captain Johnny Sexton's illustrious career and crushed the aspirations of a nation that had dreamed of World Cup glory.
New Zealand, living up to their formidable reputation, showcased their dominance, securing a well-deserved 24-28 victory and earning their ticket to the semi-finals against Argentina at Stade de France.
As it happened:
The All-Blacks' triumph was highlighted by tries from Leicester Fainga'anuku, Ardie Savea, and Will Jordan, showcasing their attacking prowess.
Despite Ireland's valiant efforts, including scores from New Zealand-born players Bundee Aki and Jamison Gibson-Park, as well as a penalty try, their comeback fell short. The passionate Irish crowd among the 78,845 spectators cheered relentlessly, but a late resurgence proved elusive.
New Zealand exhibited remarkable resilience, even with two players, Aaron Smith and Codie Taylor, temporarily sidelined due to yellow cards. Ian Foster's squad weathered the storm, seeking revenge after their previous Test series loss to Ireland on home soil.
The match, steeped in the intensity of this enduring rivalry, kept fans on the edge of their seats until the final whistle.
This defeat not only halted Ireland's impressive 17-match winning streak but also dashed their hopes of achieving a historic Six Nations Grand Slam and World Cup double, a feat accomplished only by England in 2003.
In stark contrast to their previous encounter in 2019, Ireland entered the match as favourites, yet New Zealand's resurgence ensured a thrilling showdown.
The pre-match atmosphere buzzed with energy, reminiscent of the All Blacks' opening-game loss to France and Ireland's memorable victory over South Africa earlier in the tournament.
New Zealand seized the moment, seeking vengeance against Ireland and aiming to restore the legendary aura and fear factor associated with the All Blacks jersey.
In a match where nerves were palpable and both teams displayed remarkable skill, New Zealand emerged victorious, leaving Sexton and his teammates in a state of devastating disappointment.
As the All Blacks celebrated their momentous win, Ireland's players and fans were left to contemplate the agony of an eighth quarter-final defeat, a bitter pill to swallow in their quest for World Cup glory.
What's next?
With Ireland's World Cup journey coming to an end, all eyes are now eagerly fixed on the upcoming Semi-final clash between the All Blacks and England, scheduled for Saturday, 21 October.
Following spectacular performances from both teams, anticipation is running high for what promises to be a historic and unforgettable match.
Sunday, 15th October, 2023
England vs Fiji (30-24)
England's fate hung in the balance against a relentless Fijan onslaught on Sunday as the two teams battled it out to earn their place in the quarter- finals.
With 15 minutes remaining on the clock, the scoreboard teetered at 24-24, the outcome uncertain.
But in this crucible of pressure, it was Owen Farrell's unyielding determination and the deafening roar of English supporters that proved to be the decisive force.
Amidst the deafening boos echoing through the stadium, directed at Farrell after his contentious selection over George Ford, England's captain proved his mettle.
With ice in his veins and the weight of a nation's expectations on his shoulders, Farrell orchestrated a remarkable turnaround.
His precision-guided boot, once the subject of doubt, became the instrument of England's salvation. A nerve-racking drop-goal followed by a crucial penalty in the 78th minute, etched Farrell's name in rugby history.
In a match where expectations were low, England's performance was nothing short of extraordinary. The vibrant orange of Fiji's kit clashed with England's white, mirroring the intensity on the field.
As it happened:
From the outset, England's strategy was clear: exploit the breakdown, test Fiji's resilience, and seize every opportunity. Elliot Daly's tactical kicking set the stage, earning England crucial territory. A relentless onslaught, punctuated by Manu Tuilagi's powerful try, showcased England's newfound cohesion and determination.
The game swayed like a pendulum. Fiji, a team laden with the hopes of an entire nation, fought back fiercely. Viliame Mata's darting try and Vilimoni Botitu's skillful score elevated the match to a fever pitch, drawing the score level at 24-24.
Yet, amidst the chaos, England found composure.
The passionate crowd, a sea of white and red, urged their team forward. With sheer grit, England's defense held firm against a relentless Fijian barrage.
The tension was palpable; the stakes couldn't be higher. As the clock ticked down, Farrell's boot, once doubted, emerged as the hero. A drop-goal, a stroke of brilliance, sailed through the posts, breaking the deadlock.
A subsequent penalty provided a slender cushion, and with hearts pounding, England's defense stood tall against Fiji's final assault.
What's next?
Now, as the last standing home nation, England prepares for an epic clash against South Africa. The stage is set for a battle that will echo through the ages—a battle where courage meets destiny, and against all odds, England aims to etch its name in World Cup glory once more.
France vs South Africa (28-29)
Amid the electrifying atmosphere of Stade de France, the Springboks, led by the unstoppable force that is Even Etzebeth, orchestrated a breathtaking comeback against Les Bleus, shattering the host nation's remarkable 18-game winning streak on home turf.
As it happened:
Right from the kickoff, the match surged with intensity as both teams exchanged blows in a pulsating first half.
Tries from Cyril Baille, Kurt-Lee Arendse, Damian De Allende, and the mesmerizing efforts of Cheslin Kolbe kept fans on the edge of their seats.
France, boosted by their passionate supporters and the return of their captain, Antoine Dupont, who bravely played despite a fractured jaw, fought fiercely. They managed to edge into halftime with a narrow lead, courtesy of Thomas Ramos' precise kicking.
As the second half commenced, it was clear that neither side were willing to make a decisive error, and the pendulum swung back and forth before Etzebeth surged over the try line to turn the tide in South Africa's favour.
Handre Pollard's sensational penalty from inside his own half further bolstered the Springbok's lead, with Pollard exhibiting exceptional composure under pressure.
The experienced South African squad, boasting eight starters from their 2019 World Cup triump over England, demonstrated their tournament prowess.
Their strategic play, including high-kicks targetting the vulnerable French wing Louis Bielle-Biarrey, proved pivotal.
Despite moments of brilliance from France, notably Peato Mauvaka's threatening presence and Ramos' precison with the boot, the Springboks maintained their focus.
As the clock ticked down, France, spurred on by their passionate support from their fans on home soil, made a desperate attempt to salavage the game. However, the Boks' resolute defense held firm,denying any opportunities of the hosts of the chance of a late comeback.
The match concluded in a frenzy of excitement, with South Africa emerging victorious and their supporters jubulant.
What's next?
With a hard-fought win under their belt, South Africa emerged victorious and now sets their sights on a tantalizing semi-final clash with England, a rematch of their 2019 final.
The Springboks, with their wealth of experience and unyielding spirit, will enter the final as strong favourites, aiming to secure their spot in consecutive World Cup finals.
Missed out on Week 5?
We've got you covered! Check out the highlights of Round 5 of the Rugby World Cup now.
In the meantime, let us know in the comments your thoughts and predictions on who you feel will emerge as the Rugby World Cup victors. We'd love to hear from you!